Review: PlexWriter 12/10/32S External (Page 2/5)


Posted: March 25, 2001
Written by: Tuan "Solace" Nguyen

Physical Behavior

As mentioned above, the 12/10/32S External is not for use with a laptop. As a matter of fact, a laptop doesnít even have the type of SCSI port this drive requires. The 12/10/32Se is intended for people who want to burn at the office and at home but only want one drive and or for those who donít have enough internal drive bays in their case.

With that in mind letís take a look at the drive itself.



Front Profile


Plextor covers the entire drive inside a silver/blue casing, which actually looks very trendy. I have become addicted to using this drive instead of my internal one just because it sits outside and attracts peopleís attention! All the controls on the front of the drive are exactly the same as the internal version except for the power button.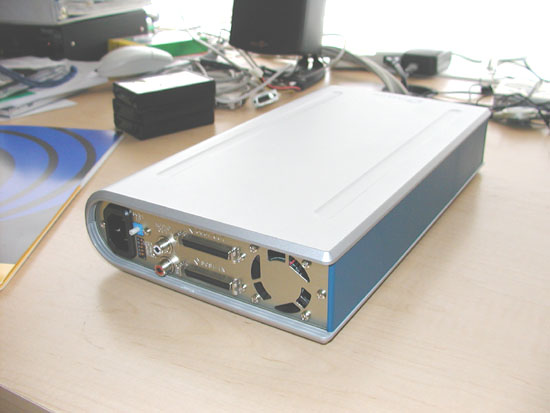 Rear Profile


On the back we see the two main SCSI ports. One is for you to connect the drive to your computer and the other one is used to connect more devices in a chain. You can actually use either one for either purpose so you wonít need worry about connecting wires into the wrong port. Also on the back is a SCSI ID adjustment dial and dipswitches for controlling termination, parity and other test settings. Other than those main connectors, Plextor has provided left and right RCA jacks so you can hook up the drive into your soundcardís Line In port. Finally, two exhaust fans keep the drive cool -- one inside the casing, and one pictured above.