Review: Philips Acoustic Edge (Page 2/7)


Posted: August 15, 2001
Written by: Tuan "GTk2" Huynh

Inside the Box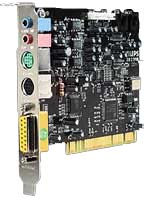 The Acoustic Edge is built upon a beautiful black PCB to match new black PCB motherboards such as Asusís CUSL2-C Black Pearl. All the external connectors are color coded for a simplified trouble free installation process. The Acoustic Edge features the typical internal connectors from CD in to S/PIDF in.

Since the Acoustic Edge features 6 speaker outputs as well as S/PIDF in/outputs, thereís no way Philips could fit all the connectors on the PCB. So instead of fitting all the connectors on the board, Philips decided to use dongles for the speaker and S/PIDF connectors. The dongle for the speakers look similar to a G9 connector typically used by PC speaker and sound card manufacturers. Donít let looks fool you, the dongle for connecting speakers is not standard G9 and will not work if you plug the sound card into a set of 5.1 speakers using a straight G9 cable.



From left to right the cables are; S/PIDF In/Out dongle, 6 speaker dongle, analog CD audio cable, and CD S/PIDF cable. It looks like Philips has been listening to what customers want and a CD S/PIDF cable was included. A lot of sound cards come with the internal connector but rarely do they include the necessary cable for utilizing the internal connector. Other then the CD S/PIDF cable, the Acoustic Edge comes with the typical cable list.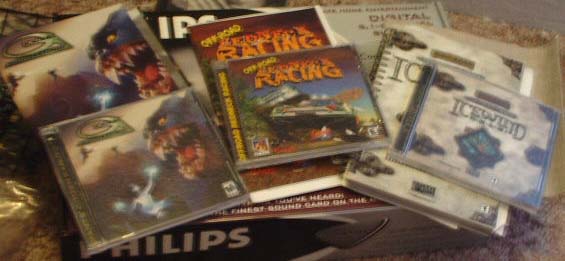 Look ma! Full version games!

Where some companies bundle specialized versions of games with sound cards, Philips decided to bundle full version games. The games bundled are; Giants Citizen Kabuto, Redneck Racing, and Icewind Dale. All the games come in *gasp* CD jewel cases with the manuals. Everything bundled is exactly what you get if you were to walk into a store and buy them separately except without the box.

This is good to see since two out of three of the above games are worth playing.

Edit: Sorry everyone, the AE doesnít come with any games and only comes with a full retail version of Power DVD 3.0 Multi-Channel Edition and Sonic Foundry Acid Express. Philips forgot to include the correct documentation that stated the games were only issued for review purposes only.

Installation

Installation was relatively simple like always. Pop open computer, insert sound card, put panel back on, turn on, install drivers, restart, and it works. No compatibility problems arose for me whatsoever.