Posted: July 14, 2002
Written by: Davey McWatters

NVIDIA nForce2


---


Introduction:

NVIDIA is a relatively new player in the world of motherboard chipsets. However, it is far from new to the tech industry. Around this time last year, NVIDIA announced its nForce chipset at Computex. It was very successful for such a new company in the market. Now it is time for a new announcement from NVIDIA, the next generation of nForce, which it calls nForce2.

With the nForce2, it looks like it has improved upon its old design and added many new features. The nForce2 offers users just about anything they could ask for in a motherboard chipset; however, there are still a few things that it lacks that may cause it to lose sales to the competition.

Board Design and Layout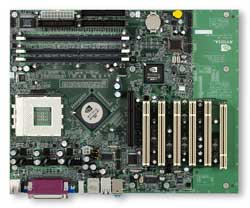 As you can see from the images above, NVIDIA has created a very feature packed chipset. It's basically integrated everything, and high-quality integrated materials at that. One of the coolest features of the motherboard design is the support for dual VGA outputs. This will give users a chance to try dual monitors and play around with NVIDIA's nView software recently added to its drivers with the release of the GeForce4. In addition to having everything integrated, it also offer five PCI slots, One AGP slot, and a single ACR slot. This should more than satisfy most computer users.

There are only three USB 2.0 ports on NVIDIA's reference design; many manufactures will most likely do the same thing and offer users a USB 2.0 header and USB 2.0 expansion slot for three additional supported ports. If you look directly above the USB ports, you will notice the integrated Ethernet ports and FireWire port. NVIDIA has allowed a more than generous amount of expansion room for its new chipset. It offer users a port for just about any device on the market to plug directly into.

In addition, if you will notice below the CPU socket next to all of the capacitors there is a small four-pin power connector. It looks like this chipset will be taking advantage of the "Pentium 4 Ready" power supplies you see at so many retailers. This means, users with older power supplies that don't have that connector will most likely have to upgrade.