GeForce 3 Preview Part 1 (Page 1/6)


Posted: February 27, 2001
Written by: Dan "Tweak Monkey" Kennedy

Read more about the nfiniteFX engine in our programmable pixel/vertex shaders article

Introduction

As with the GeForce 2 and the GeForce 256 before that, for the launch of the GeForce 3 (AKA "NV20"), I had a chance to head north to Santa Clara and see the beast first-hand. Being a cheap-skate, I never turn down a free vacation, especially if it involves new technology and video games.



Chillin' in the lobby; That's me in the middle-left (w/ gray sweatshirt).
To my left, Joe from PC Rave, next is Scott from Bjorn3D, Mike
(middle) from nV News, Marisa from Nvidia, Chris from Planet GF,
and finally, Ben (bottom right) from Broken Pixel. Phew, that was hard.



While this first part of my either two or three part preview (I haven't decided yet) covers the features and specifications of the chip, the next part (or parts) will go into more detail on its new features and specifically what they offer over the current technology. Since Nvidia has come a long way in a short time, let's first analyze where it is headed...




World Take-Over

It should come as no surprise to you that Nvidia is trying to take over the world. Obviously, they started with the graphics department (which as of right now, they appear to be dominating, even in the mobile field), but as you'll see in the near future, they'll likely move into other areas -- perhaps pet care, automobiles, and even nuclear weapons -- okay, okay, maybe just hardware.

Even in the last year (when most companies were suffering from the poor state of NASDAQ), Nvidia has managed to grow big a significant margin, and has managed to take under its wing its original competitor, 3dfx. Nvidia's inevitable expansion into new areas is obvious from its involvement with one thing: Microsoft's Xbox. I mean, if they dominate the console video and sound realm too, what's next? I guess only the future will tell.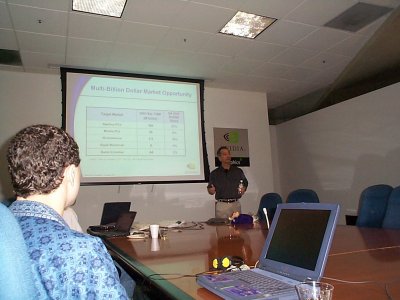 Michael Hara, VP Investor Relations & Communications, explains
the multi-billion dollar market that Nvidia is slowly taking over.



No, I don't really think Nvidia is trying to take over the world. However, they are doing a great job of keeping the market on its feet, with new products such as the GeForce 3, which you'll learn about in this article. I wonder if any of the other guys' cameras picked up this: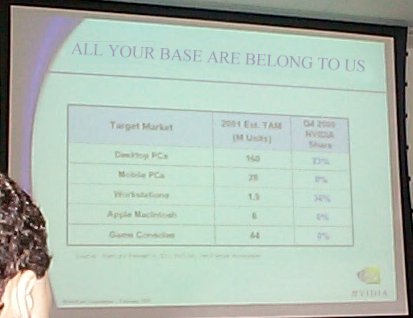 I see Nvidia is hip with the latest Sega Genesis games.



Financially, Nvidia matured over the 2000 year as well. Despite picking up a few hundred employees (106 or so of which came from 3dfx), Nvidia still has a value of over $1 million per employee. BTW, in case you were wondering, 70-75% of Nvidia's ~700 employees are still engineers.



You go, Mike! I think he's saying "bigger is better" or something.
Isn't that typical of an investor/marketing guy?



You've probably already read enough about marketing, so let's get to something more interesting: GeForce 3 features and specifications.



Couldn't they have come up with a better name? :P