Introduction
Mitsumi has strove to make useful products of all types. Manufacturing everything from floppy drives to CD-Rs, there is a good chance that at least something in your computer bears the Mitsumi name. When I first heard of the 4801TE IDE 4x8 CD-R, I imagined it would maintain the same quality as other Mitsumi products, along with a little of that "generic" feeling. (that's a bad way to describe it, so I hope you understand that I mean Mitsumi makes some almost-generic products)
Installation
Installing a CD-R is just like installing a CD-ROM or hard drive. You'll have to already have a free 5 1/4" bay, an IDE channel, and a little patience. (These installation photos are from the box)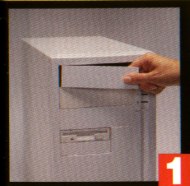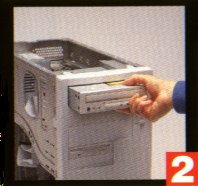 1) You'll have to remove your 5 1/4" bay cover first. This is usually not a problem, but in tight spaces with certain ATX cases it can be difficult. There is usually a metal guard behind the plastic cover, unless you removed these prior to assembly. Make sure to be careful. The edges can cut your hands pretty badly. After working at a computer store, I would always come home with at least a few flesh wounds.
2) Sliding in the CD-R is not a problem in most cases. However, I had a huge problem here. I have the ABIT BX6 motherboard and a Mini/Mid tower ATX case. The motherboard is gigantic, and the CD-R is too long to fit without smashing right into my SDRAM DIMMs which lie right behind the 5 1/4" slots. I guess ABIT never thought about that.. So I have a CD-R hanging about 2" out of my system. This is okay, but it's just another hassle. Most cases and motherboards should have no problem fitting the CD-R in.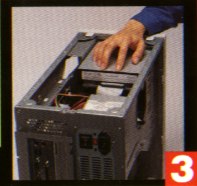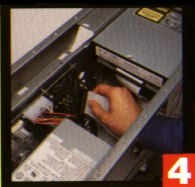 3) Next you need to attach the IDE ribbon, power connector, and CD-ROM audio cable. Again, most people shouldn't have a problem here. If you're a real novice, you might run into troubles. If you're unsure which side is "Pin1", the IDE ribbon has a red line on it. The red side plugs into the side of your CD-R connector that says Pin1, or 99 times out of 100, the side closest to the power connector. Connecting the power connector is not hard either. Some times it may take a little pressure, but fear not. It is also keyed so no mistakes can be made.
4) Now you should install the IDE cable onto your motherboard's IDE connector. This, too, will have the pin # etched in, so you shouldn't be confused. You might have to set the CD-R to master and feed it through to your CD-ROM as slave if you have two hard drives installed, etc. Now plug the audio cable into the sound card's connector and you're set. Reboot and install drivers.
This installation was just as expected. There were no major problems, but the size issue of my BX6 angered me a bit.
Features
When a product looks good on paper, it could still be a piece of crap. It's important to understand these terms when buying specialized hardware such as CD-Rs.