The Card Cooler XT (Page 1/3)


Posted: July 8, 2000
Written by: Dan "Tweak Monkey" Kennedy
Cost: $34 from The Card Cooler
Review unit supplied by The Card Cooler




Introduction

The Card Cooler is almost a legend at Tweak3D. When this puppy first came out, we were among the first to test it, and sure enough, it was a damn fine product. It was simple, easy to install, and cheap.

But come on.. 2x80mm fans? That's just not enough power for the 'tweakiest' among us, now is it? No problem! The Card Cooler has released a new, much more massive version of its extremely popular Card Cooler: The Card Cooler XT.

Specifications

So what makes The Card Cooler XT different than The Card Cooler, other than the heftier price tag ($34 rather than $20)? Well, for starters, there are now fan grilles over the open side of the fans. This is a definite plus. You wouldn't want to lose a finger would ya? Not only do fan grilles give your PC that "BBQ" style -- er, rather, they do make your PC look pretty damn cool, they also normally cost $2.50 to $3.50 a piece for grilles of this size.

But grilles aren't the reason you'd buy The Card Cooler XT -- no sir, you'd want air flow. That's why you buy something to cool your PC. Does The Card Cooler XT move a lot of air? How does 138 CFM sound? Maybe you don't understand just how much air 138 cubic feet of air is... Well, for comparison's sake: the original Card Cooler only moved 68.8 CFM which seemed like plenty. The Card Cooler XT blows just about double the air of the original Card Cooler.

Most people think that with all that air flow, The Card Cooler XT has to be pretty darn loud. But it's not! The Card Cooler XT's fans are high quality Sunon low speed (2400 RPM) fans. Rated at only 35.5dba per fan, these are among the quietest 120mm fans available; and are even quieter than some 80mm fans. The original Card Cooler was rated at 32.5dba per fan (ball bearing) -- and it was barely noticeable in a closed case. Normally, a single 120mm fan sounds like an airplane within your case, so 35.5dba is pretty darn good.

A couple other features make The Card Cooler XT superior to The Card Cooler. Instead of using sleeve bearings, The Card Cooler XT only comes with ball bearings (which tend to perform better and last longer). If that's not enough, these two massive 120mm fans only draw 2.4 watts per fan. And a warranty? You bet. The Card Cooler XT comes with a lifetime warranty.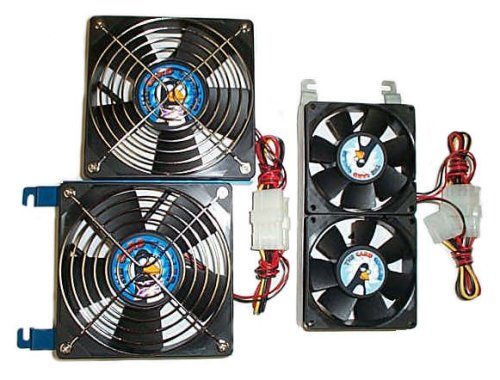 This comparison shot shows just how massive the 120mm fan-based Card Cooler XT really is.