Posted: May 6, 2002
Written by: Davey McWatters

Stealth Card Cooler


---


Introduction

Here at Tweak3D we have looked at each new Card Cooler that has come available. This time they have developed the quietest cooler yet. They are using Vantecís Stealth 80mm fans and likewise dub the new cooler Stealth Card Cooler. How does it perform compared to previous card coolers?

The Card Cooler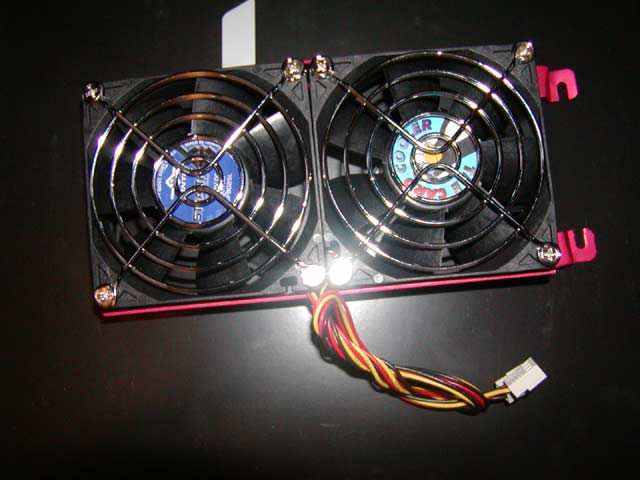 On the Stealth Card Cooler, The Card Cooler has included two 80mm Vantec Stealth fans. They spin at 2050RPM and push 27cfm of air, while only making a mere 21dba of noise. From the picture, the rails holding the two fans together look pink; however, they are actually red. Fan grills are included on each fan to keep you from cutting a finger off.




The backside of the cooler is angled a slight bit to keep the cooler from actually touching your add-in cards inside the PC. Each fan has a 3-pin tail coming off it; however, The Card Cooler includes an adaptor to convert it to a single 4-pin Molex connector.




The two wires from the picture above are used to make the conversion from two 3-pin power connectors to a single 4pin Molex with a pass through. The Card Cooler does a great job including pass through Molex connectors on their coolers, as it allows you to use the Card Cooler, while not using up one of your Molex connectors.




The picture above has each power cord installed and ready for installation into the case. As you can see, with all three pieces installed it makes for one very long power connector. You should have no problem finding a power source that will reach even if you have the Godzilla of all computer cases.