MP3 Solutions MP3 CD Player (Page 1 of 3)


Posted: August 20, 2000
Written by: Dan "Tweak Monkey" Kennedy
Product provided by: MP3Solutions.com
Retail price: $179.99

Introduction

I can honestly say I've never been a big fan of portable MP3 players. The price was always high, the quality was questionable, and the fact that you could only fit around 20 songs on a memory stick was pathetic -- even less on some. I didn't like portable MP3 players... until I received the MP3 Solutions MP3 CD Player.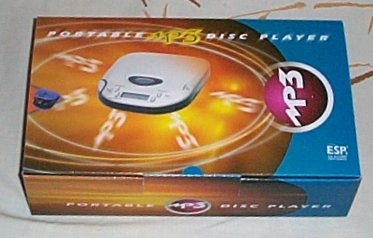 The boxed product.



What Makes it Different?

Why is this MP3 player different or better than others? One good reason sticks out: it uses CDs instead of memory sticks. Forget 20 songs -- now we're talking 200+ songs on a single CD. And if you team this CD player up with a CD-writer and a good Internet connection, you've got just about the best portable music system, ever.

Features


50 sec anti-shock
Plays standard audio CDs and MP3 CD-Rs (up to 255 songs on 1 CD)
Built-in recharge circuit (for Ni-Cad batteries)
DBBS Dynamic bass boost system
Directory mode (directories act as playlists)
Stereo Headphone Jack
Line Out Jack (connects to your car player)
Digital LCD Function Display (no title information)
500 sec. Recording Capacity (For Memos or Reminders)
Runs on 2 AA Batteries (up to 5h of playing)

Plays from 32 bit/sec to 192k

Fast forward and rewind capability within tracks

For more info visit the FAQ

Includes:

1 MP3 Discman (Silver)

1 set of earbud headphones

1 AC adapter

The feature set seems standard for the product -- they supply headphones, an AC adapter, and it has all the features you'd expect. It also features 500 seconds of memo recording which could come in handy at times. So, how does it perform?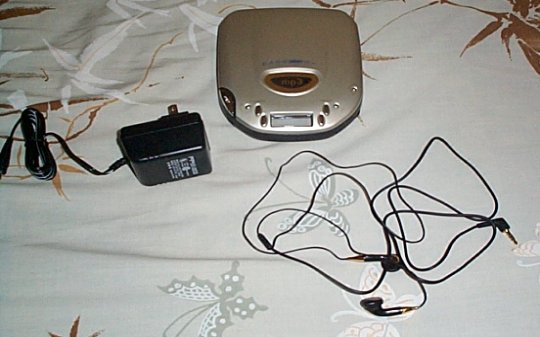 The MP3 player, adapter, and earbud headphones.