The Card Cooler's "Max Cool" Case (Page 1/3)


Posted: January 8, 2001
Written by: James Kennedy




Introduction

Back in June we reviewed one of the nicest cases we have ever come across - the Addtronics 6896A. The case scored highly with us due to its unique design and how it has plenty of room for fans and components. Well, the 6896A is back, but this time with the aid of the Card Cooler it is even better than ever. The Card Cooler took this great case, put professionally cut holes on the side and top and laced the inside with a variety of legendary Card Cooler fans. So isn't this just the Addtronics 6896A with more fans? Keep reading...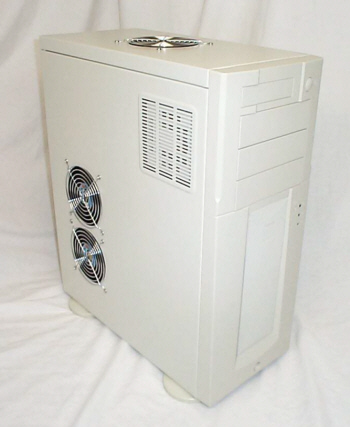 Before we continue, let me point out that the normal Addtronics 6896A case retails for $132, and the Max Cool version of the case costs $219. However, the prices of the fans that have been added to the case bring the price of the plain Addtronics right up to this level... so the professional blow holes are essentially free.

Features

As seen in our original review, this case isn't exactly your average tower case. Here are the case specs:

o Slide-In/Out Motherboard Tray And Slot Bracket - Easy Installation, Testing, And Maintenance
o Swing-Open Side Doors For Easy Access To Chassis For Easy Access And Maintenance.
o Front Panel Removable Air Filter - Easy Clean
o Fit Different Motherboard Size ATX, FULL Or BABY AT
o Security Lock On Front Panel - No Unauthorized Opening.
o Can Fit Different ATX Motherboards(Marl, Venus, Tucson,At...)
o No Screw And Wire On Front Panel.
o Ventilation Holes On The Front Panel Allows Cool Air To Enter, While Hot Air Exits Through Ventilation Holes On The Side Doors And Back Of The Case.
o Optional Fans Are Available In Addition To The Power Supply Fan. Non-Screw Fan Bracket.
o Clip-On Bezel No Screw & Wire
o Washable Front Filter To Keep Dust Out
o Drive Rails For Ease Of Drive Installation
o Adjustable Height Base For Uneven Surfaces
o Can Hold Up To 6 Fans (8X8cm 4, 9X9cm 1, 12X12cm 1)For Maximum Ventilation
o Locking Front Panel & Main Chassis For Security
o Metal Shielding For All Exposed Drive Bays To Meet FCC Spec's
o Top Cover Opens For Convenient Access To Drives
o All Flanges Deburred For Safety
o Clip-On Bezel No Screw & Wire
o 94hb ABS Plastic Material
o Zinc Plated Treatment · S.E.C.C. Steel Sheeting
o Screw In EMI Drive Bay Fillers
o Meet FCC B Spec.
o Power Supply: Ps/2, ATX. Safety: UL/CSA/TUV/CE/CB/N/D/FI/S
o Each Power Supply Pass Extra 30 Minutes Test On Our Factory, Very Very Low RMA Rate
o N.W. 15kg G.W. 17kg