CDI Alaska Case Review (Page 1/3)


Posted: August 5, 2000
Written By: Darren "Nafterclifen" Leonard
Price: Color Only - $200
Cooling Only - $200
Color and Cooling - $300



Front view (Take notice of the hard drive cooler)



Introduction

It's that time again for yet another case review at Tweak3D. This time, we're going to look at one of the most customized cases, available in over 16.7 million colors, on the market today which comes from a company called Computers Divine Incorporated. Here's a little background, straight from the horse's mouth: "Never before had a company dared to push the envelope to this extent in the Gaming Industry. Some here in Austin even thought we were crazy at first. But they're not thinking that anymore. Especially here in Texas where they found out firsthand how fast CDI was turning the place upside down with our "COOL-CASES" for GAMERS. So now we're venturing out once again. But this time we're targeting the whole world. And we proudly introduce the first full line of custom colored components and hardware ever. You can buy your system anywhere you want. There are alot of good gaming companies out there. But leave your Case, Monitor, Keyboard and Drives to us. And we'll give you what no other company in the world can.

A top of the line product that is professionally personalized in any of our patented MARBLEIZATION DESIGNS, and in any of our 16.7 million colors. CDI also offers our customers the option of sending us their existing or pre-purchased hardware for customization. We know how important your PC is to you. So we've made it our business to bend over backwards to serve our customers in the most efficient and effective way possible. We put quality and service before profit here at CDI. And by doing this, we came up with a formula where the profit took care of itself."

Installation

With the vast amount of room that a full tower case provides, one can safely do system transfers and install hardware with ease. The removable motherboard tray made installing and mounting a breeze. This is not your typical "slide out the back" tray though. Instead of sliding out the back, this one folds out the side. There's not much difference between the two but some may not like this particular style. After the motherboard is installed, simply connect the case wires, plug in all your cards, slide and screw any hard drives and cd-rom/dvd/cdrw devices in, and your work is done. With the included drive rails, you'll that have that blazin' 10,000rpm SCSI hard drive running cool in no time with the pre-installed dual fan (40mm) hard drive cooler. Everything came labeled in bags (screws, wheels, drive rails, etc) so you shouldn't have any problems figuring out what goes where.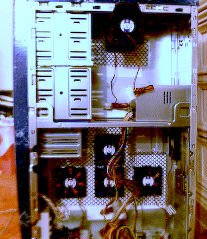 Inside view (Note: The plastic mesh protects fingers and other objects from the fans)



Fold out motherboard tray (Note: Both sides of the case are removable)