Mouse Bungee Pro (Page 3/3)


Posted: May 1, 2001
Written by: Dan "Tweak Monkey" Kennedy

Analysis

What's in store for the mouse pads of the future? I honestly don't know. But from the looks and feel of this tempered glass surface, I would say that the Mouse Bungee Pro is a step forward. Integrating the handy dandy (well for some people) Mouse Bungee into a sleek design, sturdy construction, and superior surface, you can't complain about the MBP.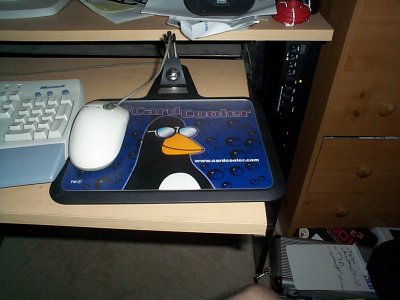 It's not the cheapest, but it might be the best!



Conclusion

If you want to have the coolest of mouse pads, nothing short of an MBP will do. Priced at $26.50, they aren't quite as cheap as some of the competition... but in my opinion, it may be worth it for most people looking to get a better mouse pad. $26.50 is a lot of money compared to the $13 tag on a Ratpad, but it's not too shabby when you consider the added Mouse Bungee and in my case, the superior feel.

If you want to buy the Mouse Bungee Pro, head on over to The Card Cooler and pick yours up today for $26.50. And tell 'em the Tweak Monkey sent ya. ;)



Overall Rating: 9.3 / 10.0
(slight point hit due to the price)



Review unit supplied by The Card Cooler