Microsoft Wireless IntelliMouse Explorer
Posted: January 20, 2002
Written by: Chris Burek
Suggest Price: $74.95 US

Pros: Wireless; Excellent ergonomics and craftsmanship.
Cons: Precision lacking.
Verdict: Poor precision hinders great design and potential of idea.


Introduction

Microsoft's Wireless IntelliMouse Explorer, and wireless mice in general, comes at a time when wireless peripherals are quickly gaining popularity. These mice join the ranks of wireless keyboards, Ethernet devices, headphones, etc.

Resembling the original IntelliMouse Explorer, the wireless flavour has a revised design, making it slightly more ergonomically oriented to the hand. As you suspected, this mouse uses Microsoft's IntelliEye optical sensor, sampling your desktop at 6000 times per second, and using radio frequency and a small base receiver to transmit your movements.

Supporting both PC and Mac, the box contains the mouse, the base receiver, two AA Panasonic batteries, a small manual, and IntelliPoint 4.0 software CD. There is no USB to PS2 connector. Like its predecessors, the Wireless IntelliMouse Explorer has five buttons, including two on its side and the scroll wheel. These buttons are easily appointed alternate functions via the IntelliPoint 4.0 software.






Installation

Installation is very straightforward. Already having IntelliPoint 4.0 installed, I unplugged my older IntelliMouse Explorer, plugged in the receiver, inserted the two AA batteries into the mouse, and finally, used the button on the receiver and small button on the bottom of the mouse, to set the radio frequency channel accordingly. After two minutes of unpacking the mouse and installing it, I was back to business.

Sceptical about the precision of the Wireless IntelliMouse Explorer, I began my tests.






Software & Other Features

The IntelliPoint 4.0 control panel displays the battery life of the AA batteries housed in the Wireless IntelliMouse Explorer, alerting you when 34% of power is left then again at 14%. Additionally, the applet also tells you what channel your mouse is currently utilizing.





To help conserve the AA batteries used in the mouse, power-saving implementations help reduce the strain on the batteries with Intelligent Touch by knowing when you're not using the mouse, and immediately engaging the optical sensor when you return. Basically, when you're not using it, it goes into a sleep state. We found when returning from sleep mode, the mouse experiences a slight delay in resuming, which results in a split second delay in moving your mouse cursor.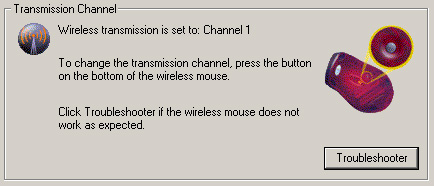 Performance & Functionality

The unit has a superb feel and grasp, surpassing my IntelliMouse Explorer. The construction of the mouse was heavier and felt more solid than my older IntelliMouse Explorer, although the side buttons were somewhat smaller. The scroll wheel also functioned favourably. This is definitely a step up over previous Microsoft mice, in terms of ergonomics and looks.

Noticeably, the wireless device lacked the precision of my wired IntelliMouse Explorer. While extremely minimal, you can feel a slight delay in movement compared to a wired mouse. For myself, this took some getting used to.

Game play with the Wireless IntelliMouse Explorer couldn't compete on par with my wired IntelliMouse Explorer, because the precision just isn't there due to the radio frequency connection. This is definitely considered an essential aspect of a mouse's ability by our readers, and unfortunately, this wireless device could not deliver, and really poses no threat in this area.

Trying everything to increase the precision, including moving the receiver closer to the mouse, and trying both of the two available radio channels, I gave up.

As far as distance goes, I brought the mouse to the very end of my room, about 8 metres, until it started to flake out.

This is not to say that the Wireless IntelliMouse Explorer functions poorly overall, because using it under Windows XP Professional, although taking some time to become accustomed to, eventually became natural. In addition, the wireless freedom was enjoyable, mainly because I'm sick of wires.

Ultimately, this is not a gamer's mouse, nor is it among the most precise mice we've tested. We feel this mouse would be better geared towards those mainly doing work under Windows, wanting a wireless solution, with the exception of detailed artistic applications such as CAD, graphic design, or 3D animation.

Will I be sticking with this mouse? Not right now. If Microsoft can somehow increase the precision of this product, then I'll definitely have to find my wired IntelliMouse Explorer a new home.

Until then.