The glasses did exactly what they're supposed to: make everything more 3D. To sum it up:
I was actually flinching when objects were traveling at the screen in Unreal, Final Fantasy VII's map seemed a lot more interactive and the game seemed more fun, Quake II and GLQuake were unbelievable; almost like VR, and the trucks in Monster Truck Madness were just plain scary!
The only problem that I had was the strain my eyes felt after an hour or so of Quake II.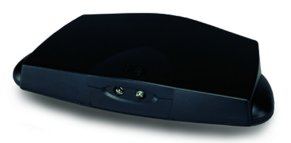 The transmitter keeps up with all the action, never skipping even a second of the H3D. Believe me folks, you can't judge H3D until you've tried it.
The future of H3D
Is H3D gone?
With all this talk of H3D closing their doors, it makes you wonder what is in store for H3D in the future. Well, I personally believe that it will still exist, and continue to strive due to the efforts of Metabyte. Coming December 2nd (4 days from now), Metabyte will be showing off a new creation of theirs, involving the technology behind H3D. Sound cool? Sure does.. and I am sure that all of you H3D'ers out there will have a place in the future of gaming.