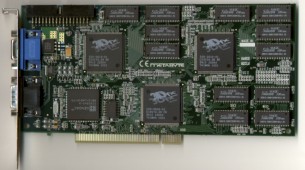 Introduction
Metabyte's Voodoo2 offers a couple features that no other board can match. These are the amazing Metabyte drivers with Re2Flex - which allows you to use resolutions higher than 800x600 - and WickedVision support. There are other impressive features about this card that are discussed in this review. The company in general is more unique than most other board manufacturers, because they care about the gamers, not just the business.
Technology information
The Wicked3D Voodoo2 is a 12 MB PCI add-on card, and as mentioned above, uses the 3Dfx Voodoo2 chipset. To install a Voodoo2 card you must already have a 2D graphics card, and (preferably) a Pentium II processor or faster. If you are a serious gamer who needs those extra FPS when it counts, anything less than a Pentium II 233 will hardly be adequate. The Wicked3D has a maximum resolution of 1024x672 for a single card, and 1024x1024 with two cards (SLI). There are other methods of using higher resolutions, but they are not officially supported. WickedVision is the Wicked3D's method of using H3D eyewear. H3D is supposedly only supported by a few games, but Metabyte has worked around that. With their Wicked3D boards in combination with the H3D glasses, gamers can run virtually any 3D - accelerated game in H3D.
Installation
The installation was simple as usual. Voodoo2 cards usually install without any problems. The user must simply place the card into a PCI slot and start the computer up, install drivers, reboot, and begin gaming.
Features
Although there were no games included with the card, it still offers some nice features. For example, the memory on the card is 100 MHz (just like my old Creative Labs 3D Blaster Voodoo2). The STB Black Magic has only 90 MHz ram.