As one of the world's finest video card manufacturers, Matrox has always been an impressive company. Their patented MGA-G200 design has innovated such cards as the Millennium, Mystique, and now, the Marvel. This card is like very few cards on the market. Instead of offering only accelerated 2D/3D performance, the Marvel incorporates more incredible features than almost any card for sale.
Features / Specifications
Supported Features / Uses
Hardware MJPEG video editing
Advanced 3D game acceleration
TV tuning on the PC
The fastest 2D performance
Support for software DVD video
PC to TV display output up to 1024 x 768
True 24-bit color support up to 1920 x 1200
Live video conferencing over the Internet
Video capture from a TV, VCR or video camera
Digital VCR for recording video to hard drive
External A/V box for easy video connection
PC-VCR Remote software for full programmability
Easy to use Avid Cinema video editing software
Photo Express software for editing photos
Tonic Trouble: 3D game fun for the whole family
MGA-G200 Chipset Features
Support for 3D games at up to 1600 x 1200 resolution
Vibrant Color Quality 3D rendering
Full AGP 2X texturing including AGP execute mode support
Symmetric Rendering Architecture allows AGP writing effects
Incredible alpha-blending effects (all modes supported)
Full speed, per pixel Tri-linear MIP-mapping
Bi-linear filtering
Specular highlighting
Vertex and table Fog
Resolutions up to 1280 x 1024 in 32-bit color
Gouraud shading
Full scene Anti-aliasing
Support for 32-bit Z-buffer
Video texture mapping
Triple buffering
Perspective Correct Texture Mapping
Triangle strip support
Chroma keying and alpha keying
The Card
Equipped with the MGA-G200 chipset, the Marvel supports some of the most up to date hardware features and has incredible image quality. The card itself is very similar to the Matrox Mystique G200. Sporting 8 MB SDRAM standard, (as tested, 16 MB) the card supports crystal clear resolutions up to 1920x1200 @ 16.7 million colors and it runs 3D games up to 1600x1200 @ 65k colors. While the MGA-G200 is by no means the most powerful or popular chipset for gamers, it still offers incredible performance and overall quality, but includes only a 230 MHz RAMDAC, which is not as high quality as what has been come to expect from Matrox. Surely, the professional user (non-gamer type) would appreciate the Marvel, and so would anyone else who would take advantage of any of its luxurious features.
So far, the G200 has yet to prove itself as a leader among 3D gaming, but has already established itself as one of, if not, the best chipsets for 2D graphics and image quality. Matrox has always been the company to beat when it comes to 2D video output. Among hardware enthusiasts, the Canadian company has become synonymous with 2D excellence, and the company hopes to expand to new dimensions with the G200 and beyond. Still, if teamed up with a Voodoo2 SLI combination, the Marvel G200-TV sticks out as the perfect 2D card.
The Box
Most connections are made via the included Marvel "Breakout box", a small plastic box that has inputs/outputs for just about every connector you can imagine. With ease you can plug in digital cameras, TV, VCR, video cameras, and more.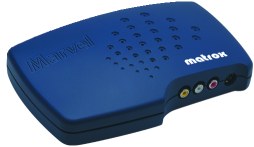 The best feature of the box is that every connector is labeled to avoid confusion. And because Matrox included a bulky stack of cables, you can rest assured that most of your peripherals you plan to connect will be as easy as plugging in labeled RCA cables. There was unfortunately, no included S-Video cable, but this is fairly common among multi-use cards that feature TV-Output/Input. However, 2 3-way (left/right audio, video) color keyed RCA cables were included. The box is connected to the card using a heavy cable that includes audio input/output connectors so users can use their PC speakers and sound card to listen to TV in a new dimension.
TV Tuner
With a built in TV tuner, TV can now be displayed on the monitor, with near perfect quality. One complaint I had about the TV was capturing, which appeared a little blurry compared to the actual output.
(Note: images scaled down from full screen)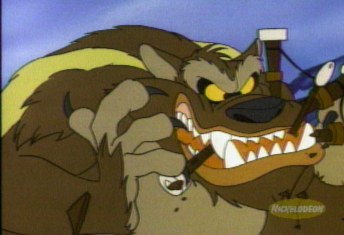 A TV tuner has a few advantages over a TV, but not without faults. One really cool feature is recording. Simply at the click of a button or through time scheduled programming, you can record your favorite shows. A couple nights back I was busy doing homework but easily programmed the TV tuner to record Seinfeld (~30 minutes) which played back perfectly. Since you can't write a file larger than 2 GB while using a 32bit system, the program knew to stop recording at the 2 GB mark, and start a new file. (Note - the whole Seinfeld episode was 2.7 GB)
The tuner also supports up to 125 cable ready channels, and has auto programming. One other feature that I found to be pretty neat was channel previewing. Much like PIP (picture-in-picture) your screen is separated into as many mini-screens as you can fit, which update once every second or so in order to find your desired channel fast and easily. Simply click once on a mini-screen in order to see it begin to move, or double click to switch to that channel.
The remote makes changing channels or adjusting brightness, etc. very easy. In fact, compared to other TV cards I have seen, the remote on the Marvel seems to be flawless. There is nothing confusing or even difficult about it. It is everything you would want a universal remote to be.. it has adjustments for the input, all the typical TV adjustments, VCR commands, and additional options. It's as easy as using... well, a remote.
Among its many uses, CC (closed captioning) can be used for those who are hearing impaired or those who need to be quiet but still want all the action. (perhaps late at night time) The CC feature is very handy with the Marvel's PC-VCR remote because it offers the ability to save CC files as .txt, so you can read it later. Also, if you want to record a TV show but you don't have the hard drive space, you can just program the remote to save the CC file of the show, and read the TV show later. (or you can record just the audio, or just the video) This works because text files are tiny in comparison to .AVI movies.
The Manual
Although I'm not the type of person that gets frustrated when things don't work at first, I know that most people become very upset. Luckily for those people, Matrox included a huge manual. The little book is about 190 pages. It is divided into 3 sections: English, French, and Spanish. (Approx 60 pages for each of the 3 languages) With everything from setup instructions to technical support, I must say, I am very impressed. If there is anything that you want to know or do not understand about your card, this book will help you figure it out.
Like I said earlier, the G200 isn't the best card on the market by any means for 3D gaming, but there is an OpenGL ICD available and the card supports Direct3D, so I thought I would run a few tests. Unfortunately, nothing could be tweaked with this card, so these are the default test results. If you were to tweak the card and overclock it, I am sure performance would increase a great deal. (Maybe some time in the future I'll create a Matrox G200 tweak guide)
Pentium II 450
ABit BX6 mainboard
64 MB PC100 SDRAM
Matrox Marvel G200-TV AGP 16 MB
Driver v4.11.01.1000
OpenGL ICD Beta1 v0.0.032
Diamond Monster Sound MX200
Windows 98
Matrox Marvel G200-TV
| | | | |
| --- | --- | --- | --- |
| | 640x480 | 800x600 | 1024x768 |
| GLQuake demo2 | 29.0 | 19.1 | 13.0 |
| Quake II demo1 | 28.2 | 21.4 | 14.5 |
| Quake II crusher | 18.2 | 9.1 | 7.1 |
| 3DMark 99 Lite | 2141 3DMarks | 1658 3DMarks | N/A |
The OpenGL results (GLQuake and Quake II) are severely lacking. This is most likely due to the very early beta ICD for the G200. As time progresses, OpenGL performance is likely to improve significantly. The Direct3D results from 3DMark 99 Lite aren't too bad. I was surprised to see the card actually pass 2000 3DMarks @ 640x480. Now, compare those results to the Skywell Magic TNT, a card that has none of the fancy features that make the Marvel shine, but it does offer very good 3D performance.
Skywell Magic TNT
| | | | |
| --- | --- | --- | --- |
| | 640x480 | 800x600 | 1024x768 |
| GLQuake demo2 | 101.9 | 68.5 | 44.1 |
| Quake II demo1 | 73.0 | 59.2 | 38.4 |
| Quake II crusher | 37.8 | 34.5 | 28.1 |
| 3DMark 99 Lite | 2755 3DMarks | 2123 3DMarks | N/A |
Matrox Marvel G200-TV vs. Skywell Magic TNT
| | |
| --- | --- |
| Matrox Marvel G200-TV | Skywell Magic TNT |
| Blue | Red |
GLQuake demo2 - 640x480

Quake II demo1 - 640x480

Quake II Crusher - 640x480

3DMark 99 Lite - 640x480

GLQuake demo2 - 800x600

Quake II demo1 - 800x600

Quake II Crusher - 800x600

3DMark 99 Lite - 800x600

GLQuake demo2 - 1024x768

Quake II demo1 - 1024x768

Quake II Crusher - 1024x768

3DMark 99 Lite - 1024x768
If you're simply looking for a card that screams at 2D and 3D, but you feel you would never use the TV or video features, you should look toward another card like the Creative Labs Graphics Blaster TNT. The CLGB TNT offers much better 3D performance, without the fancy features of the Marvel, for less than 1/2 the price.
There are very few video cards on the market with as many features as the Matrox Marvel G200-TV. The question is, will you use them? If you're looking for all these wonderful features, and you're willing to spend a little extra cash, the card is perfect for you. In fact, if you plan to use even only a few of the features, you're much better off buying this card instead of buying individual cards for each of its features. Also, when teamed up with a Voodoo2 or even Voodoo2 SLI, this card is just as intended, marvelous. The price certainly can't compare with the countless hours of fun you will have if you purchase the Matrox Marvel G200-TV.