Mad Dog Multimedia Dominator 52x24x52 CD-RW
Posted: August 23rd, 2003
Written by: Justin "The Sheriff" Woods
---
---


Drive Specs. Benchmarks


Mad Dog's Dominator is manufactured by a company called Artec. It's very quiet, including the opening and closing of the tray, and spin up. As a matter of fact, I was relieved to hear its soft hum, especially compared to the Sony CRX215A1 I've been using for the last few months. As for the look of the drive, it's your standard beige CD-RW drive; no frills. I did notice black foam padding sitting between the bezel front and the drive tray, which probably helps in noise reduction and possibly gives a tighter fit for the fast spinning drive tray.
I'm sure most of you have heard about someone's nice new CD shattering inside the CDROM while spinning, well, I've actually had it happen to me. I was installing Office XP in a 56x drive, the CD made a loud crack, like someone slammed a ruler down on a desk, and then I heard a noise similar to what a garbage disposal full of screws makes (remember, I have children). My CD is now resting in a Zip Lock sandwich baggy. Obviously, CD breakage is one of the more challenging obstacles engineers have to face when trying to get faster burners out to the public.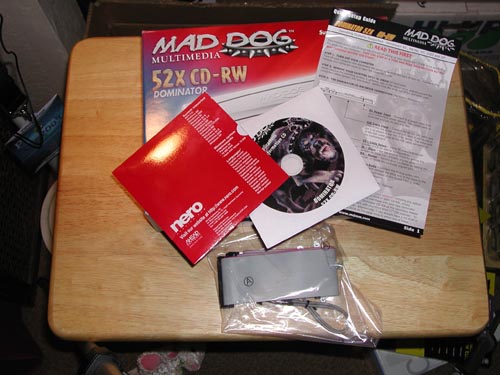 A pretty decent bundle, everything you need to install the drive including a swank "how to" guide
I'm only going to show the specs for the 52x drive, as the 48x drive has all the same specs with the exception of the obvious The benchmarks will give you real world results and I'll also include my feelings/impressions on the drives in terms of noise and anything else I noted during the testing/installing.
Drive specifications:
Model:
MD-52XCDR
Data transfer rate:
Reading Speed: 52x max (CAV), 7700 KB/s (Max)
Recording Speed: CD-R / 52x (CLV) 7700 KB/s (Max) / CD-RW / 24x (CLV) @ 3600 KB/s (Max)
Disc Supporting Formats:
CD-DA, CD-ROM (Mode-1), CD-ROM XA Mode-2 (form-1, Form-2), or Multisession Photo CD, CD-I, Video CD, Enhanced CD & CD Plus, CD-R, CD-RW, and Audio CD.
Support Disc Size:
80 & 120mm Diameter discs
Disc Capacity:
74 min/650MB & 80 min / 700MB
Access Time:
100 ms (1/3 stroke avg.)
Buffer Memory:
2 MB
MTBF:
100,000 POH (30% duty cycle at room temp.)
Interface Type:
E-IDE / ATAPI
Mounting Method:
Horizontal
OS Compatibility:
MS-DOS, Windows NT/XP/2000/ME/98/95
Bundled Software:
Nero Burning ROM 5.5 or newer (Express)
4 Mounting Screws, one 4-pin audio cable, one IDE cable
The drives I tested were also compatible with a new CD/DVD standard called Mount Rainier. This standard isn't implemented in any OS at this time, but I've read that Windows next OS, Longhorn will have native Mt. Rainer support. This standard, created by Phillips, will be marketed under the name EasyWrite&0153. Here's a little more on this interesting new standard right from the horse's mouth:
What is the purpose of Mount Rainier?
The purpose of the proposal made by the Mount Rainier group is to make CD-RW easier to use for data storage and interchange. The changes proposed will enable the operating system support of dragging and dropping data to CD-RW discs. Formatting delays will also be eliminated and the use will be comparable to using a hard disk or a floppy.

Is there any relation between High Speed CD-RW and Mount Rainier?
There is no direct technical link between these two improvements to the CD-RW standards. The Mount Rainier functionality is independent of the use of the RW-media type. However, the Mount Rainier functionality will have a better transfer rate for writing with the high speed CD-RW standard and thus give a better overall user experience.

What file system will be used for Mount Rainier functionality?
The Mount Rainier proposal for data on CD-RW is technically independent from file system choices. It is, however, clear that the established file system for writing data on CD-RW is UDF. This file system is widely supported for reading (Windows 98, Windows 2000, MacOS 8.1). UDF is therefore a natural choice for this purpose.

Isn't it already possible to drag and drop data to CD-RW?
Yes, packet writing applications are currently available that enable CD-RW drag and drop capability in most major operating systems. What the Mount Rainier initiative changes is that the functionality will be seamlessly integrated in the operating systems and the user will be able to write immediately to a new disc without waiting for formatting.

Will the media still need to be formatted?
Formatting will be made invisible for the user. Background Formatting has been designed to allow immediate drag and drop to the disc, while securing compatibility with the installed base.

Will this make the packet writing applications obsolete?
Once this is fully implemented in the OS, packet writing applications will not be needed to write on Mount Rainier enabled CD-RW drives. There will be a continued need for applications to support legacy drives and non-enabled operating systems. It is expected that the user model will be split in three segments: (1) Drag and drop data writing with the Mount Rainier enabled drives and OS, (2) drag and drop writing with third party software functionality on legacy CD-RW, and (3) pre-mastering applications for audio, video, photo and some data.

What if I have a Mount Rainier capable drive, but an OS without Mount Rainier support?
Then you will need to install a 3rd party application to take advantage of the same functionality.

How will CD-RW drives that are not Mount Rainier capable and CD-ROM drives handle the discs?
Only Mount Rainier capable drives will be able to write to the Mount Rainier formatted discs. Other drives, including legacy CD-RW drives, as well as CD-R, CD-ROM, and DVD-ROM drives will be able to read the discs. A "defect re-mapping driver" will be needed for these drives, which have to be Multiread compliant. It is expected that the OS vendors will provide the driver.

Will this proposal also allow to make bootable disks?
The Mount Rainier proposal allows use of the El Torito boot method. What's the relation between this initiative and the preformatted media business? Although the formatting burdens are greatly lowered by the Mount Rainer proposals, some media vendors still might continue their current business model of providing formatted media. In this case the media should be preformatted as prescribed by the Mount Rainier specs.
Let's get on to the meat and potatoes...