Logitech WingMan Formula Force
Posted: 3-6-99
Written by: Dan "Tweak Monkey" Kennedy
Estimated retail price from Logitech: $179.95
Logitech is a name nobody should take for granted. When a Logitech product arrives at my door, I know what to expect: quality and perfection. Because Logitech arrived a little later than some other companies to the force feedback steering wheel scene, the wheel should be better than older wheels. So how does this sub-$200 wheel perform? Read on to find out..
Installation
The installation of any modern product should be a breeze, and Logitech took extra steps to ensure this. Instead of just using a standard serial connector, gameport, or USB connector, they provide a serial connector with an optional USB converter. (in other words, USB or serial) This is a damn good idea, because not everyone has an available serial port, and not everyone has USB. Another definite plus about the usage of serial over a gameport is the ability to attach multiple devices. For example, I play a lot of different games. Some times it's Grand Theft Auto in which I use my SideWinder gamepad. Other times, Viper Racing, where I use a steering wheel, or Half-Life, where I use a mouse and keyboard. The point is, available gameports are valuable, because now you can leave one item connected the gameport while still having the wheel attached to the serial or USB connector. I hate having to unplug/reinstall joysticks every single time I want to play a different game.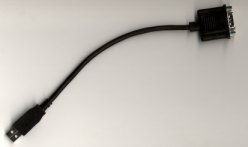 Installing the wheel is typical of any joystick or most peripheral devices. I first installed the drivers, then powered down the computer, attached the serial connector and powered back on. Instead of having to calibrate, the wheel features auto calibration. By moving it left and right a few times, the wheel finds the center and knows where to return after being adjusted.
Features
Complete, thick rubber grip for comfort and ergonomic balance.

4 programmable on-top buttons


2 programmable shift/trigger keys

Quieter than most wheels tested

Durable casing
Adjustable force feedback levels
Dual mounting clips
One year warranty

Great anti-slip, rubber feet
Analog pedals
Large and spacious for all users


Gremlin's MotorHead (full retail version)
UbiSoft's F1 Racing Simulation (full retail version)
Logitech WingMan Profiler and drivers
By including two of the best racing simulations to date, Gremlin's MotorHead and UbiSoft's F1 Racing Simulation, the Logitech WingMan Formula Force has an advantage over many others already. The software bundle of a product rarely has a great impact on the sale of the product, but when you combine a great product with two great games, it certainly helps.
Performance
To test the wheel I went through a one week phase in which I played nothing but racing games. Here's a partial list of the games I tested out:
Motoracer

Redline Racer

Nascar II

Andretti Racing

Test Drive 4

Road Rash

Grand Theft Auto

Sega Daytona USA Deluxe (force feedback)

Sega Rally Championship (force feedback)

Sega Touring Car Championship (force feedback)

CART Precision Racing (force feedback)

Need For Speed III (force feedback)

Monster Truck Madness II (force feedback)

UbiSoft's F1 Racing Simulation (force feedback)

Gremlin's MotorHead (force feedback)

Redline demo (force feedback)

Viper Racing (force feedback)
The first thing I noticed about the wheel was the excellent grip and how comfortable it was. It certainly feels a lot more realistic than the Microsoft wheel. Although thick and heavy, it moves smooth too. The generic plastic-like feel is completely eliminated. The wheel is not as powerful as the others I have tested. It is much smoother and not as jerky. Instead of pulling you along, you actually control the game. It's fun to be able to control the game for once instead of vice versa.
I had the most fun on Viper Racing and Need For Speed III. (two of my favorite racing games) After playing for a while, my Viper in VR was up to about 600hp. The wheel made it feel very realistic. It swayed from side to side when doing burn-outs and when revving the engine up, the wheel revved along as well. It's also very quiet. Usually the unavoidable rattling sounds of a force feedback wheel cause the whole house to stay awake..
The pedals look a bit odd, but serve their purpose well. The large flat bottom and rubber feet make the plate 100% stable. It barely moves no matter how hard you jam your feet on it. The pedals push at a weird angle, almost straight into the base. This is okay because it is fairly easy to position yourself accordingly. The rest on the left side was a good idea as well.
If you don't want force feedback but want the rest of the package, you can look for the WingMan Formula, a typical steering wheel with excellent performance. The price is about $100.
Most other wheels do a good job creating a realistic racing experience, but the Logitech WingMan Formula Force does a GREAT job. It's not only more realistic and less pounding, but more comfortable, accurate, and quiet. Out of all the wheels I have tested, none can match the arcade/real life racing experience as close as this.
For most people, $179.95 isn't exactly pocket change. But if you want to play racing games, you do not want to use your keyboard or any other device that takes away from the realism. You're probably going to spend this much money anyway, so pick up a wheel that I can verify (from my own experience) to be one of the best ones you can find.
[+] Good

Comfortable, grooved rubber grip

Not over-powered
Great software bundle
Non-slip, high performance, comfortable pedals
Uses your choice of serial or USB
It doesn't get much more realistic than this...



[-] Bad
Pedals are somewhat awkward
Expensive (but worth every cent)

| | |
| --- | --- |
| Logitech WingMan Formula Force | Score |
| Value | 9.0 |
| Performance | 9.0 |
| Features | 9.5 |
| Quality | 9.5 |
| Overall | 9.4 |
Another solid product from Logitech! Go buy one today!