Posted: August 16th, 2003
Written by: Justin "The Sheriff" Woods
---
---


Introduction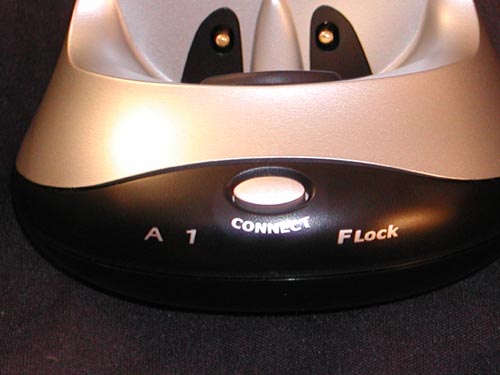 The receiver has all the LEDs for caps, number and F-Lock functions, and it recharges your mouse's batteries
The receiver connects to your PC's PS 2 ports and also to an AC adapter, which as you heard me lament about in the past is just to frigging big. Someone please get the message that I don't want to buy another power strip, I already have 30 and I only have 1 PC and one laptop plugged in!!! Whew, I feel much better now, so anyway, this little gem plugs into the back of the PS 2 connector for the keyboard and extend about 6-foot so you have plenty of distance to get to the nearest plug (or your 15th power strip).
The mouse comes with a slight charge, but I noticed it needed to be recharged after about 30 minutes of use, granted it had just come out of the box. Earlier I mentioned only having to change batteries in the keyboard rarely, but the mouse goes through them like a fat kid with a jar of M&Ms. Its very cool to be able to pop the mouse in the receiver/cradle over night and have freshly charged batteries in the morning. Once the charge starts to dwindle, you won't see your pointer, popping the mouse in the cradle for even one minute give you another ten minutes of use. It's very fast, and not at all an inconvenience, you just have to remember to put the mouse to bed when you leave your PC.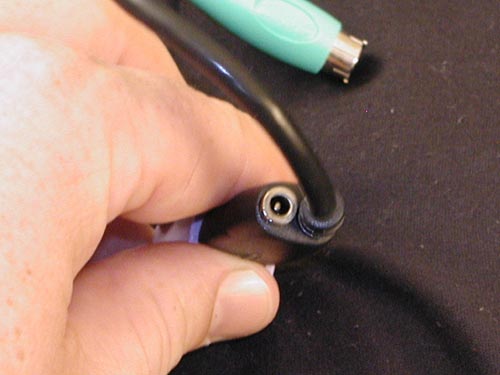 AC adapter heaven
Once in a while a product comes around; you review it and feel that it just cannot get any better than what you have in front of you. When Logitech sent me the Cordless Optical Duo back in May of 2002, I felt this way. A few month later, they sent me an updated version of my beloved wireless keyboard/mouse combo and it had indeed gotten better, and I insisted that Logitech just couldn't do it again. I stand corrected.
If you've read my previous reviews (here and here), you already know that I love this keyboard/mouse combo. So you can imagine my delight when Logitech sent me the new MX Duo. The people over at Logitech have done it again, the mouse is superbly engineered and easy to adapt to, the keyboard is quiet, smooth, functional, and comfortable-they are the perfect combo. If you are in the market for a new keyboard and mouse, do yourself a favor and pick this bad boy up.
Price: $99.00
Rating: 10 / 10