Creative Soundblaster Live Audigy and Inspire 5300


Posted: November 30th, 2001
Written by: Davey McWatters

Introduction

Logitech has been around since 1981. They make many types of input devices for your personal computers; they include mice, keyboards, web cams, and speakers. Many people use Logitech devices on their PCs. Today we are going to take a look at Logitechís IFeel Mouse. It gives you the ability to point, click, and now feel the application environment on your computer. The sense of feel is added by Immersionís TouchSense technology and proprietary hardware added by Logitech.

Installation
Installing the IFeel mouse was very easy. To use it as a simple every day mouse all that was required was plugging it into an open USB port. However, to get the sense of feel from the mouse you must install special drivers. You must install Logitechís MouseWare software package as well as Immersionís TouchWare. A driver installation CD is included in the box along with your IFeel mouse.

Software/Drivers




The IFeel mouse comes with your standard Logitech MouseWare application. However, it does include an extra tab titled IFeel. As you can see in the picture above there is an option to enable the IFeel mode and change its strength setting. This tab is useful since it has the preview feature. If you donít want to go all the way there they offer you a quicker way. A single click on the Immersion icon in your toolbar will bring up the following:




This allows you to quickly adjust the strength or even disable the IFeel feature.




After clicking the advanced button on the IFeel tab in MouseWare it brings up Immersionís TouchWare Control Panel (shown above). You have all the basic things you had in the IFeel tab along with some other features. They include the selectable themes, which simply apply different modes of vibration to your mouse. You also have an option to set a hot key to disable IFeel. I find the hotkey very useful.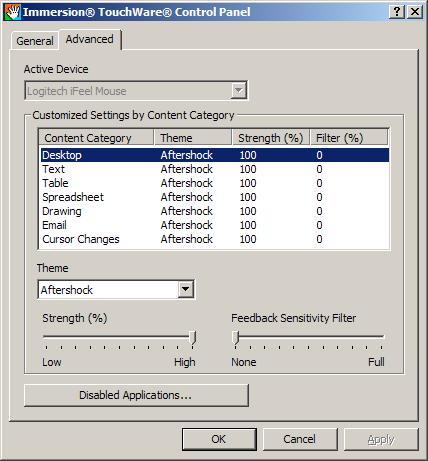 If you click the advanced tab in your TouchWare control panel it will bring you to the window shown above. In here you have options to manipulate the strength and theme to each individual task instead of it changing everything for you in the previous two tabs. I see little to no difference in the themes to tell you the truth so I didnít bother individually manipulating the tasks.

All in all you have quite a few different controls and options for your mouse. You can have it vibrate very little or vibrate strongly. Availability of different themes is nice, however I donít feel that much of a difference in the themes offered. They all feel basically the same. The hotkey and the quick click setting changer are useful features. I find myself using the hotkey the most.