Logitech Cordless Elite Duo Cordless keyboard & mouse

Posted: October 24th, 2002
Written by: Justin "The Sheriff" Woods
---
---


The Keyboard in action


This wouldn't be a tweak3d review without the tweaks, so take a look at some of the cool things this keyboard can be set up to do. Logitech has made it very simple to configure the keyboard. You can use the ITouch utility on the task bar, which once opened allows you to configure every aspect of the keyboard from securing it, to setting the hotkeys. Speaking of security, these keyboards can frequency hop, so one does not conflict with another, and they can be secured so your data, passwords, etc. are safe from hackers. Setting up security is extremely simple.
The picture on the right shows a small graphic that pops up when you push one of the easy access keys. It stays there for about 2 to 3 seconds, and is set when you name the button. I couldn't find a way to turn this off, and leaving the name field blank when you set the key up isn't allowed.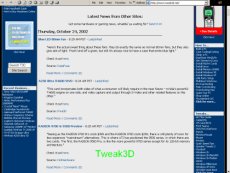 The picture on the left is the popup that occurs the first time you press a button, and is another avenue to setting the button up. In this case, I had pressed the Email button, which was pre-configured for Microsoft Outlook, my default email application. Once you have pressed the button for the first time, you'll never see this again for that button, unless you remove the check mark at the bottom.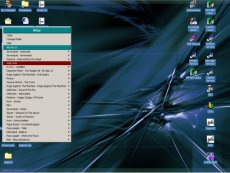 One seriously cool feature of the on-board scroll wheel is that not only does it scroll through programs, but it can be configured to open you're "My Music" folder when you scroll. To configure it, just press down on it. I have mine set to scroll, but the picture shows it set up to open my music folder. Playing a song or playlist is as easy as scrolling to a folder, then clicking, then scrolling to a song, and clicking, which will automatically play it. Clicking on a playlist file (.m3u) opens and plays it, similarly.
Finally, setting a website to a hotkey is as simple as browsing to a webpage, and pressing the ctrl key + the hotkey you want to assign.
As I mentioned before, the changes made to this revision of the keyboard have only added more functionality, while not losing any ease of use at all. The setup and use is easier than ever.
Now, let's look at the ever-important mouse.