Logitech Cordless Elite Duo Cordless keyboard & mouse

Posted: October 24th, 2002
Written by: Justin "The Sheriff" Woods
---
---


Installation and setup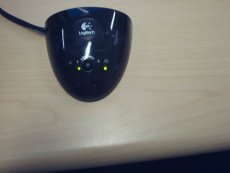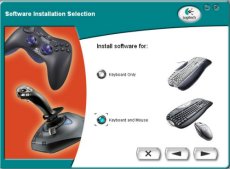 The instillation process is simple, though I found that you really need to follow the instructions to get the mouse and keyboard setup, and connected. The PC I installed them on had a Logitech keyboard and mouse, which were supplied by the manufacturer. I removed the software, and to insure that I wouldn't have any conflicts, I deleted the previous mouse from the hardware manager before shutting down to plug in the receiver. After plugging it in, and turning the PC on, and waiting for your OS to boot, all you need to do is press the "connect" button on the receiver until the connect LED stays lit, then you press the "connect" button on the mouse, once they synch, the LED on the receiver will blink, then turn off. You do the same procedure for the keyboard. Once you do this, you can use the keyboard and mouse to control the PC. In all the times I have installed a wireless keyboard or mouse, this was the easiest.
One other thing to note, is that Logitech moved the caps-lock, num-lock, and new F-lock indicators from the system tray to the receiver (look at the picture), so you have a visible indicator of when you push one of them. Normally, when you push the num-lock or caps-lock, the LED lights up, however; the F-lock LED stays lit, which indicates being on, even though it's technically off. I'll explain the use of this key later, and this discrepancy, and why I have mentioned it will make sense.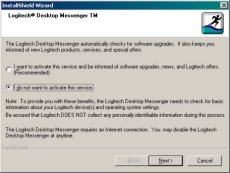 Installing the software is as simple as inserting the CD and following the prompts. Along with the drivers, you have the choice to install a few additional pieces of software, which as you can see I opted to leave out. Music Match is a good media player, but I already have Winamp, and really like it. The other notable software here is the Logitech Resource Center, which is similar to Windows update, in that it can notify you of driver updates. It can also be set up to send you notifications of specials, promotions, and new products. Wild Tangent is an online gaming company. You go to their site, download their software, and play their games online. If memory serves me, this is the company that produced Bad Betty, and Paul Steed, formerly from ID Software, now works his magic here, creating character models, skins, and animations. That said, you are given one mor chance to install the resource center, and after the installer is complete, you're asked to reboot. When you restart, you can configure the keyboard and mouse.
Next, let's take a look a the keyboard.