Labtec APX-4620
Posted: 2-5-99
Written by: Dan "Tweak Monkey" Kennedy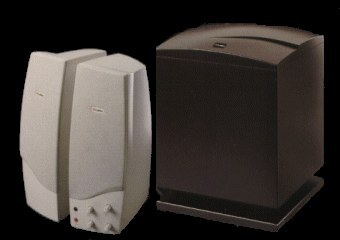 Back when the Sound Blaster was hot news, speaker companies worked hard to produce excellent speakers for computers. They had to follow certain guidelines, including pricing and specifications, in order to successfully market these new speakers as if they were designed for personal computers. Labtec pushed hard to become well known. By designing products for several different markets, they sold speakers as cheap as a few dollars while still selling higher quality models for more. Things have changed quite a bit since this time. New speaker companies are appearing all the time. Read on to find out how Labtec's APX-4620 speaker system (1 subwoofer + 2 satellite speakers) compares.
Features / Specifications
The APX-4620 boasts impressive features for the price. Pay particular attention to the RMS watts below, and the frequency response.
Features
-D'Appolito driver configuration
-Variable Spatializer® 3-D Imaging™
-3-way electronic crossover
-Progressive suspension subwoofer
-Laminar flow bass port
-Clear Desk™ Mounting System
-Max-X™ drivers
-Convenient single-side control panel with variable volume, treble and bass controls
-Power on/off switch
-Headphone output and microphone input jacks
Specifications
Frequency response: 25Hz-20kHz
Power output: 70 watts RMS, 44W (subwoofer), 7.5 + 7.5W (midrange), 5.5 + 5.5W (tweeter)
(1) Shielded 6" Max-X™ progressive suspension subwoofer
(4) Shielded 2" Max-X™ midrange drivers in satellite speakers
(2) Shielded 2" tweeter drivers in satellite speakers
Cord length: 7' to source, 5' between speakers
Estimated price: $100 to $150 US retail. Search Pricewatch for a price in your area.
The hardest part (and what I recommend to be the first part) of installing the APX-4620 was finding a spot to place the massive subwoofer. Because this box is about the size of a 14" monitor, you had best make sure you have the room on the floor before purchasing this system. I had to push a lot of other wires out of the way just to set it down.
After placing the subwoofer, I proceeded to connect the satellites. One problem already was encountered: short speaker cords. It's quite frustrating to have your speakers within inches of their desired position, and to be completely out of cord.
I was pleased to see monitor brackets included with the speakers. Using the included adhesive strips, I attached the speakers to the side of my monitor without any problems. Some people may not use the brackets, but I applaud Labtec for considering those who need a place to put the speakers.
After attaching all the color keyed cords to the proper spots, I was ready to test these bad boys out.

The APX-4620 system had highs and lows. Explosions and deep, loud noises sound great, but most sounds leave you wanting more. Most games and applications sounded great, but a few left me unimpressed.
Here's an example: Use the 9mm assault rifle in Half-Life. Normally it has a high pitch and sounds very clear. (using my Cambridge SoundWorks, and a few other speakers I have tested) The APX-4620 sounds muffled and "muddy", almost as if the machine gun was being fired from a great distance. When you add explosions in the background, characters running around, and music playing, the tone is nearly unbearable.
Overall, the satellites sounded pretty good. Most problems were encountered when there was a lot of action on the screen, so I can't recommend these speakers for avid gamers. Listening to MP3s, MIDIs, and .WAV files showed a strong side of the speakers. When cranking out some techno beats, the speakers got through to me. I realized they are a hell of a buy for anyone that doesn't plan to use them for games.
The real hero of the day was the subwoofer. From grenades in Quake II to cannons being fired in Red Alert, I have seen very few subwoofers with as much BOOM for the buck. The only complaint you may have is from your neighbors.
If you're looking to spice up your audio system for a little over $100, and want all the bass you can get, nothing I have seen even comes close to the overall quality and performance of the APX-4620. However, if you're into gaming or would like better satellite performance, there are much better choices out there. The Altec Lansing ACS48 system STILL shines over almost anything else out there in this price range, and the MidiLand 4030 also kicks serious ass.
It's all a matter of preference, but I believe bass is not as important as overall sound quality. Therefore I would personally choose either the Altec Lansing ACS48 or the MidiLand 4030 before I would purchase the Labtec APX-4620.