Kingston DataPak Portable PC Card 5 Gig Hard Drive
Posted: October 19th, 2002
Written by: Justin "The Sheriff" Woods
---
---


Introduction & details

Storage technology has come a long way in the 7 years that I have been working with PCs. I remember back to 1995, when I bought my very first PC, it cost me $2300. This speed demon was a "high-end" Pentium 133. It came with 8 megs of memory, and a cavernous 1.2 gig hard drive. I thought I had all the space in the world with that massive drive, but filled it easily with all the games I could get my hands on. Today, we have 200 gig drives, IDE RAID, and 1gig capacity compact flash cards. We got a chance to look at a PCMCIA hard drive from Kingston that holds the current title for the largest capacity PC card hard drive. Lets take a look at how this drive performs, and why you might be interested in a device like this.
Features:
15ms seek time
Low power consumption
Fully plug & play
5 gig uncompressed, 10 gig compressed storage capacity
Type II hard drive
Shock resistant carrying case
PC and Mac compatible
Hot swap capability
Up to 120Mb per second transfer rate
3 year warranty & free tech support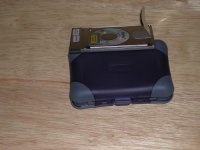 I'd like to take a moment and give a quick refresher course in PCMCIA technology. PCMCIA stands for Personal Computer Memory Card International Association, and was developed by some 500 companies. This orginization developed the standards for the PC cards we use today. Originally, the PC card was developed to add memory to portable PCs, but has since been used adding storage, network connectivity, and external devices, like portable CD-RWs. There are 3 types of PC card, and the difference between the 3 is size, and application.
PC Card information
Type I cards can be up to 3.3 mm thick, and are used primarily for adding additional ROM or RAM to a portable PC.
Type II cards can be up to 5.5 mm thick, and are used primarily for adding modems or networking to your PC.
Type III cards can be up to 10.5 mm thick, and are used primarily for adding disk space.

PC Card Slot Information
A Type I slot can hold one Type I card.
A Type II slot can hold 1 Type II card or 2 Type I cards.
A Type III slot can hold 1 Type III card or a Type I and Type II card.

Most laptops taday, are equipped with 2 hot-swappable Type II cards slots. This means you can insert and remove PC cards without needing to restart your PC. In Windows 2000 and XP, you can stop the card service before removing it by double clicking on the add/remove icon in the system tray.
On the left, you can see the interface for stopping a PCMCIA device, notice that the view device components is checked, normally, you dont have to view this to stop a service, I just wanted to demostrate that this is a powerful feature, built into Windows. The picture to the right, is the message you get when pulling the PCMCIA card out without stopping it first. Normally, plugging it back in will allow you to open up the dialog, and stop the device properly.