Kingston CF/1024 I gigabyte Compact Flash card & Digital Media Flashcard reader

Posted: January, 15th 2003
Written by: Justin "The Sheriff" Woods
---
---


The 6-in-1 media reader


Generally, I don't skip around when presenting you with a review or an article, but these products work in tandem with each other, so I am taking a little different approach to getting information into this review. You see, you don't really have to install the CF card, you just plug it into the device you are going to use it with, and it's ready to go. The card is exactly like any other compact flash card you buy, meaning, even if you don't go out and buy this card, you can still do some of the things I am going to mention later in the review/article with your existing compact flash card. The real difference is Kingston's quality, and the fact that this particular card is a full 1 gigabyte.
The installation part of the process happens when you plug the media reader into your PC and watch Windows (or Mac OS) install the drivers. There is a driver CD for those of you stuck back in Windows 9x/Me land, or for those of you that are Mac fans. As for the rest of us, the drivers are built into Windows 2000 & XP, so all you need to do is plug the USB cable in and give the OS about 30 seconds to install drivers, assign a drive letter, and you're good to go.
The 6-in-1 media reader can be used with o Compact Flash (Type I and Type II), MicroDrive, SmartMedia, MultiMediaCard, SecureDigital, and Memory Stick, so picking up one of these little gems will guarantee you have the right tool for the job, no matter what memory standard your peripheral, or "consumer electronic" device requires. Inserting the cards is self-explanatory, as you can see from the pictures below, the shape of the card you're going to insert dictates where you put it.
If you're an avid reader of the site, you might remember I reviewed the Pocketec 20 gig removable hard drive, and I mentioned that one of the things I would like to see added to future revisions is an activity LED. Well, to my heart's delight, The 6-in-1 media reader has one. When you're transferring data, it blinks green.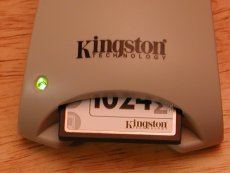 Okay, I've skipped around a little to show you both products up front. Now we'll get to the meat and potatoes, which is why you are here in the first place right? Thought so…