Review: Hercules Game Theater XP (Page 3/8)


Posted: March 12, 2001
Written by: Tuan "Solace" Nguyen

Quality Assurance

I've talked to Alan Dang over at FiringSquad about his experience with the GTXP and he tells me that after a while, one of the 3.5mm stereo jacks on the breakout box actually broke from testing. Both Alan and I have talked to Hercules about this issue and they assure us that only 2 of the review samples were defective. But think about this for a second; if a company sends out a product to be scrutinized and analyzed, wouldn't they make sure that the product they are sending is in perfect condition? If a product sent out for review ended up breaking, think about what might happen to products that have didn't have to be prepared for review. Nevertheless, my experiences with the GTXP physically have been nothing but enjoyment. I am definitely impressed with the overall quality of both the box and the card. We'll have to see how long this quality can withstand stress though.

Features

Here's the list of features that are packed into the CS4630:

- 420 MIPs SLIMD ™ DSP architecture with increased internal memory for greater performance
- Hardware acceleration for Microsoft DirectSound ® and DirectSound3D ® Positional Audio
- Sensaura™ 3-D, 2- or 4-channel audio
- EAX™ 1.0 enhanced environmental audio standard
- Unlimited-voice wavetable synthesis with effects including DLS support
- Acoustic echo cancellation hardware acceleration for NetMeeting™
- 10-band graphic equalization
- High quality hardware sample rate conversion (90+ dB dynamic range)
- PC/PCI, DDMA, and CrystalClear Legacy Support (CCLS ®)
- PCI 2.1 compliant PCI interface
- Full-duplex, 128-stream DMA interface with hardware scatter/gather support
- PCI power management (D0 through D3cold), APM 1.2, and ACPI 1.0
- Power Management Event (PME#) generation within D0-D3 cold
- Dual AC '97 2.1 codec interface
- Asynchronous digital serial interface (ZV Port)
- S/PDIF digital input and output support for PCM and AC3 encoded 5.1 channel formats
- DirectInput ™ joystick and MPU-401 MIDI in/out
- 3.3 V / 2.5 V power supply (5 V tolerant I/O)
- PC 98 and PC 99 compliant

Sensaura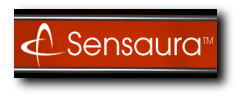 Sensaura technology powers the GTXP's 3D audio capabilities. Using optimized HRTFs, Sensaura enables full support for games that take advantage of 3D sound positioning. One significant feature that is not found on other cards is support for HRTFs on the rear speakers called Sensaura MultiDrive. Having HRTFs on all four speakers generate a more believable 3D sound image than those sound cards that only support HRTFs on the front speakers. Those users who have sound cards based on Aureal's Vortex2 processor would agree that A3D 2.0 produces extremely convincing 3D sound from just two speakers. With Sensaura 4 speaker HRTFs, you get a 3D sound stage that bests even A3D.

Having HRTFs on all four speakers is great for the sounds in games, however, standard HRTFs alone are limited when it comes to creating sounds that are suppose to seem close to the listener's ears. The most famous example of this is a bee buzzing around someone's ear. Traditional HRTFs can't reproduce this close proximity effect and thus the bee sounds further than intended. Sensaura overcomes this limitation by using MacroFX technology. MacroFX enables sounds to be imaged very close to your ear.