Evergreen Technologies' RumbleFX Force Feedback Headphones (Page 1/3)


Posted: March 29, 2001
Written by: Chris Burek
ERP: $59.99 USD
http://www.rumblefx.com

Introduction

You may own a force feedback joystick, maybe a force feedback steering wheel, or even a force feedback mouse, but did you ever think that force feedback headphones could be next on your list?

Schelley Olhava of IDC's Consumer Devices Group explains, "Add-on products designed to enhance the gaming experience can tap into strong video game industry growth going forward. Additionally, research shows that 94.8% of gamers purchase games in retail stores, where they also purchase peripherals after testing products in end-cap displays." We're here to inform you whether or not the RumbleFX from Evergreen is going to be worth purchasing.

How does the force feedback effect work? The RumbleFX utilizes a digital signal processor (DSP) that recognizes low frequency signals, and with the help of transducers positioned in the earpieces, the low frequency signals are converted into vibrations. According to Evergreen, the RumbleFX headphones actually contain a very small, high quality subwoofer.

Evergreen stresses that the RumbleFX can be used on a variety of platforms, including PC, consoles (using a stereo receiver), portable CD/MP3/Cassette players, etc.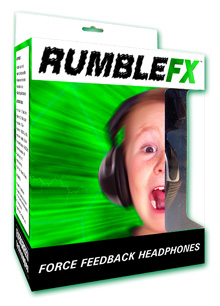 Specifications

Driver Unit: 40mm diameter dome
Diameter: 57mm diameter actuator
Impedance: 32 Ohm
Sensitivity: 102dB S.P.L. at 1 KHz
Max Power Handling: 500 mW
Frequency response: 5-28,000Hz
Power Requirements: 3V
Cord: Approximately 4m(13ft)
Stereo Plug: 3.5mm(.14") diameter


Included with Evergreen's RumbleFX Headphones:
-RumbleFX force feedback vibration and volume control unit
-Two AAA batteries (Approximately 20 hours of gameplay and/or music listening time)
-A stereo headphone conversion jack
-Soft cushion earcup on lightweight adjustable headband
-90-day Warranty