Elsa Gladiac Review (Page 1/8)


Posted: May 15, 2000
Written by: Tuan "Solace" Nguyen
Cost: About $350

Introduction

Today we have an in-house review of Elsa's Gladiac -- a card based on nVIDIA's GeForce 2 GTS chip. For those of you who haven't yet read about nVIDIA's new chip, I'll be using excerpts from our GeForce 2 GTS Preview.

The Gladiac is the first card based on the GeForce 2 GTS to be released. And let me tell you, its performance is incredible. Now I am starting to wonder how many 3dfx VSA-100 chips it takes to do what this card does...

Elsa's Gladiac

I hear knocking on the door and walk over to open it and there's a FedEx guy standing there with a massive box -- big enough to take up the entire space underneath a desk. I thought "D'oh, not the Elsa card". I signed the tablet and took the box in. On the invoice slip it read "Elsa Inc."... *grin*

Inside was an army-esque backpack (what the?) with two stitched emblems saying Elsa and nVIDIA.




Inside, the bag contained the Gladiac retail box, and a couple other things.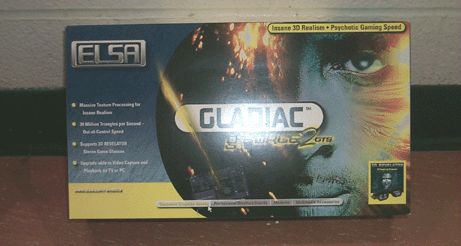 So what does the card itself look like? Well, it's nothing innovative but it does follow nVIDIA's reference design.




It looks like the Gladiac follows nVIDIA's reference design to the max. We noticed the inclusion of a high quality Millennium Electronics heatsink-fan combo. Newer cards these days tend to have heatsink-fan combos for stability and reliability.

Infineon manufactured the memory used on our board, and of course it's DDR clocked at 166MHz. But then again in effect it's 333MHz because of the double data throughput on both the rising and falling clock cycles. The modules are 6ns DDR chips.