Creative CD-RW Blaster 6424 (Page 2/2)


The Soft Side

Almost one of the most confusing part of using a CD-R or CD-RW is not installation or anything from a technical aspect, yet using the software that controls writing to your CD. Between Prassi abCD and Nero-Burning Rom (which are included with your Creative CD-RW), I chose Nero. With the simplistic 'explorer' type browsing of files, I felt right at home. For those that spend five minutes to figure out how to use it, you can learn it three times over by reading the easy to understand manual.

Between speed and reliability, Nero got the job done. A good write/re-write program for any CD-RW drive. Here is a picture of what the program looks like: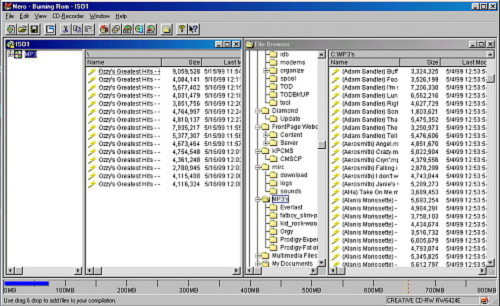 Don't you just admire its beautiful browser-friendly interface? Anyhoo, other cool features included the program's ability to copy information to the CD-Rom in many different modes or protocols if you will, other than just the usual audio/data shnazz...

What else?

Upon receiving this product, my first worry was not where to fit it in my system, how troublesome installation would be, or anything else like that, but rather the worry of having to go out and buy CD's to begin copying. Luckily, Creative included two Verbatim CD's. One of which a CD-R 650MB recordable CD, and the second of which a CD-RW 2X/4X compatible disc. Another nice touch was their fine 'Creative' engraved, plastic, felt-tip, black ink, durable, and permanent marking pen ;). After being spoiled by such nice accessories, I was surprised not to find CD labels. Perhaps next time. Moving on to my final thoughts...

Conclusion

To conclude, the Creative CD-ReWriteable 6424 drive is a best buy on any occasion. Most other CD-RW's at the same price range between 2X-2X-24X and 4X-2X-24X. Logically, this drives price/performance ratio is top-notch. Other obvious benefits include the ability to not only write, but also re-write, which most do not take into consideration when buying such a drive. Seek time, and buffer size are also on par with other competitors. In fact, the only fault I could find is in Read time. As mentioned earlier- this, however, can easily be overlooked considering most will still use their CD-RW and CD-Rom in conjunction. The only reliability problems encountered was one buffer underdone error in which the buffer overflowed when I allowed for files over 50KB to be buffered (which is actually still quite surprising). This was the one time out of twenty that any error occurred and writes failed. Although the chance of it happening again is slim, at the time it sported to be very annoying. All in all, those looking for a CD-RW drive... the search is over, Creative CD-RW Blaster is the one.

Good [+]
Great write/re-write performance.


Good, affordable price.


Easy use and installation.


Relatively good reliability.
Bad [-]
Ugly, ugly read performance.


Relatively good reliability.
Overall Rating: 9.5
[ Search for the lowest Prices of this Product! ]