Compex Wireless Networking Lineup (802.11b)


Posted: July 22, 2003
Written By: Dan "Tweak Monkey" Kennedy
Supplied By: Compex
---
---



Introduction

With literally thousands of companies making hardware these days, it's hard to find those that truly separate themselves from the pack. Networking hardware is no exception. When you go to buy a wireless adapter for your PC, or even a router, you'll likely encounter twenty or more products worth considering. Virtually every company now seems to make a wireless line, so how can you decide which product to buy?

In the past for me, it was always brand loyalty. I had run DLink and SMC networking equipment for years without problems, so when I made the transition to wireless, I bought an SMC access point and a DLink PCMCIA card for my notebook. My roommate bought an SMC card since it matched the AP's name. The problems started immediately for both of us: random connectivity issues, high latency and packetloss, poor signal strength. I practically gave up hope and kept a Cat5 cable handy for my notebook (well, as handy as a network cable can be on a notebook)...

In general, I had always had problems with wireless, until I gave Compex's equipment a try.

A Refreshing New Flavor

I'm always excited when I 'discover' new hardware companies. Even if it's been around for 15 years like Compex has, it's neat when I finally have a chance to evaluate its products.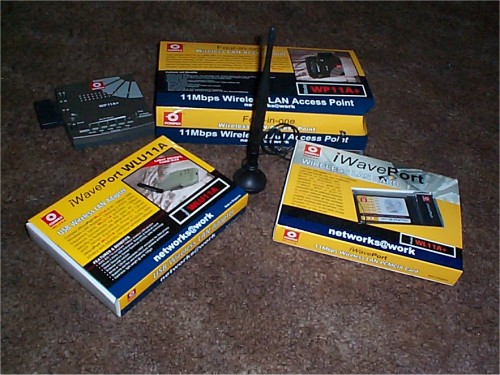 In the mail I received a large box from Compex that contained all the 802.11b goods I could want for a while:
-a USB wireless network adapter (iWavePort WLU11A)
-a PCMCIA wireless network card (iWavePort WL11A+)
-a four-in-one wireless network access point (WP11A+)
-an expansion antenna for the adapters (WA-HGA-5+)

Opening the Packages

All the products were packaged as well as you would expect from any decent networking company. The driver CDs were in sleeves and were high quality. The manuals were black and white (and a bit thin), but appeared to have been well written and to the point -- just the way we like them.

After seeing this pile of new toys, I just had to try them out...