The packaging: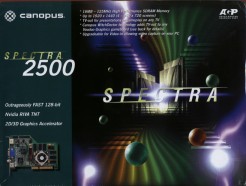 Introduction
Since Canopus released the Pure3D in 1997, their cards have always been the highest quality of their category. The Pure3D wasn't the only 'best of class' card Canopus put out. For example, the Total3D 128V was probably the best Riva 128 card to ever be manufactured, and the Pure3D II is still the limousine of voodoo2s in many people's eyes. When I first heard that Canopus was manufacturing a TNT I knew immediately it would be the finest video card to date.
Technology information
You've heard what the TNT does a hundred times already, so I'm just going to point you to Canopus for the spec sheet if you want it.
To sum it up for you, the Spectra 2500 is a small AGP card -much different from the reference design, with 16 MB onboard SDRAM. The ram on the STB Velocity 4400 was higher quality (Fujitsu) and was capable of 120 MHz without problems, where the ram on the Canopus (Hyundai) would not work well at 120 MHz for long periods of time.
Installation
The installation was a breeze. Just like the Velocity 4400 you just insert the included CD, point it to the directory you need to, and reboot.
Features
Canopus prides itself in the excellent TV-output and special features their cards have. There was no software bundle, but many included hardware features: