Review: ASUS V7700 (Page 1/8)


Posted: June 16, 2000
Written by: Tuan "Solace" Nguyen

Introduction

We're at it again folks. It's a new issue and a new chapter, and this time, we're attacking another GeForce 2 based card. It seems that the GeForce 2 has gathered a tremendous audience. All the major vendors are jumping on the bandwagon and are rushing to push out their versions of GeForce 2 cards. Consequently, with the rush, most vendors are opting to go the way of the reference design.

Now, following a reference design has its advantages and disadvantages. One major advantage is that it allows the board manufacturer to get cards out soon. Another advantage is that R&D isn't required, and this saves money, and the savings pass on to the end user. A disadvantage in using reference design is that the design gives virtually the same performance as the other reference cards. There is little room for hardware improvements; no room for extra implementations.

Now that that's out of the way, let's get down to the real deal. Today we're looking at the ASUS V7700. Obviously based on the GeForce 2 GTS, we already have certain expectations as to what the card should perform like.

Just like our last two GeForce 2 articles, we'll be covering all audiences. From new users to power driven, deep pocket, know-it-alls. If you already know about the workings and features of the GeForce 2 GTS, you can feel free to skip through the pages. However, you can always learn something new.

The Card:

For some reason, I really don't like UPS, I tend to favor FedEx more. They just look… better! Heh. Anyway, back on topic. Here's the front of the V7700:

The front side (click on the image to view an actual size snapshot):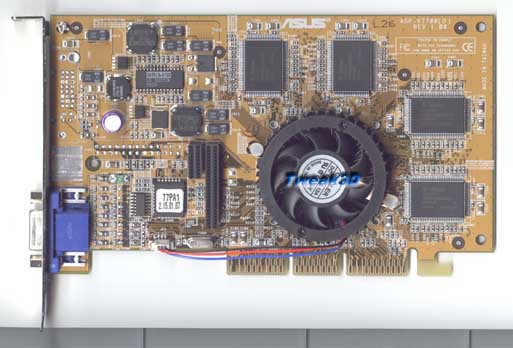 Here we see that ASUS has made a choice to use NVIDIA's reference design. Like we said earlier, this brings advantages and disadvantages. The first thing that stands out from the rest though is the inclusion of a cylindrical active heatsink. This is the coolest looking fan we've come across. Now, whether it's really "cool" or not will be told when we overclock the card and push its limits.

By now we've reached the conclusion that everyone is using Infineon's memory chips. They're all clocked at 166MHz (effectively 333MHz) and stepped at 6ns. Here's a shot of the back of the card:

The back side (click on the image to view an actual size snapshot):




Here's the back of the V7700, and it's almost like every other reference board except for one important element.




Above is a picture of the Winbond hardware-monitoring chip. This little chip gives you stats on board temperature, core temperature, fan speed, etc, so you'll know when to stop jacking up the clock speed. Wait, did I just say stop? Who wants to stop? We're taking this board all the way!

Okay, enough board shots, let's take a look at the specs:

The Specs

- NVIDIA GeForce 2 GTS GPU
- 256-bit graphics engine
- 200MHz core/166MHz memory clock (effectively 333MHz)
- 25 million triangles/sec
- 800 Mpixels/s fill rate
- 1.6GTexels/sec fill rate
- 5.3GB/sec Memory bandwidth
- Hardware Anti-Aliasing
- 32-bit colors, Z/stencil buffer
- 350MHz RAMDAC
- Max Resolution 2048x1536
- 32MB DDR RAM
- AGP 2X/4X including fast writes and execute mode
- Onboard Hardware Monitoring
- DirectX texture compression
- S3TC support
- Windows 9x/NT/2000 compatible

If you've been reading, you'll know that this is a typical GeForce 2 board except for the hardware monitoring feature -- which we definitely appreciate.

Before we go any further, here's the dirt on GeForce 2 GTS.