Super Cooler System Monitor (Page 1/1)


Posted: July 12, 1999
Written by: Dan "Tweak Monkey" Kennedy
Estimated retail price:$49.99 (Canadian) controls up to two sensors.
$59.99 (Canadian) controls up to eight sensors.
$5.00 (Canadian) for each extra temperature probe.

Wouldn't it be really cool if you could monitor the temperature of your video card, CPU, hard drive(s), motherboard, and sound card at all times? How about if the device that monitored these items had a built in clock, heat alarms, and two powerful fans to cool your hard drive? This kind of device would be a dream for overclockers, or anyone that is really careful about the heat their system produces. But wait - this isn't a dream; it's a reality! AMK Computers has these puppies for sale. They sure sound like a great idea.. but they cost a pretty penny. Are they worth it?

Features


Audible overheat alarm / warning system.
Two fans for hard drive cooling, which can be configured to turn on or off when the heat increases.
Up to two (or eight, if you pay for the better model) channels of temperature detection.
Backlight on device allows you to easily see the display in the dark.
Built in clock.
Comes with: two temperature probes, heat resistant tape for mounting probes, battery, power connector/splitter, installation manual.


Installation

You can probably imagine that installing something like this would he a difficult task. Actually, it's very easy to install. First you have to open up a bay to put the cooler in. Then you need to attach all the necessary temperature probes and power connector. Next you just slide the device into a 5 1/4" bay (usually in front of a hard drive), and screw it in. Finally, you attach the power connector and then tape the probes to whatever devices you want. I taped one onto the back of my TNT2 (underneath the chip) and the other on my Pentium II 450 CPU. I ended up simply attaching the probe to my SEC (Singled Edge Contact)cartridge because I couldn't find a way to get an accurate reading of the CPU without removing it. Some more probes would have been nice though...

Once you have done all of this, setting the alarms and clock is an easy process. The included installation manual describes how to configure and use all of the features. After turning on your PC, the device will light up with a backlight similar to Indiglo watch lights. It can easily be read even in a very dark room.

Observations/Opinions

Test System
Pentium II 450
ABit BX6 mainboard
128 MB PC100 SDRAM
TNT2 Ultra reference board (150 MHz core / 183 MHz memory)
19" Optiquest V95 monitor
VSYNC disabled
Creative Labs Sound Blaster Live! Retail
Windows 98
The cooler looks slick. It does add a nice touch to your case, and believe me, it does a great job of monitoring temperatures. With the push of a button, it goes from my CPU to my TNT2 Ultra. After a few hours of Q3Test and Kingpin, my CPU's cartridge was up to 105F and my TNT2 Ultra's back side was all the way up to 113F. If I was overclocking my TNT2, this would be a great device to help me know when things are getting too hot. This is what the cooler looks like in my case:




Another reason I really like this cooler is because of the light-up feature. It's very handy because I'm usually working at night, in the dark. Now I've got a clock and a temperature monitor that I can see at all times even if my monitor is off or very dark. Here's a picture of the cooler with the lights off: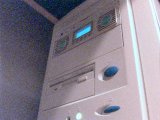 I really like the look of this cooler. I guess I'm a sucker for buttons, too. The buttons are esc, mode, up, down, and fan. The esc button will return the original menu, the mode button will switch between set clock, alarm, Fahrenheit/Centigrade, etc. The up and down buttons are used to set the clock or to choose between which device (up to 8 in this case). The fan button will turn the fan on or off. It's practically silent so I leave it on at all times. Here's yet another shot; this one is a close-up. If you look carefully you can read the time (12:22 AM) and the temperature of my Pentium II cartridge (103.2F).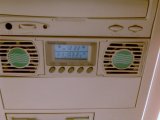 Conclusion

Whether you're overclocking your system or just nervous about the amount of heat your system is producing, cooling devices and temperature monitors are always a wise investment. I fully recommend this product to someone looking to spice up their system. It doesn't just look cool, it has several purposes. The clock, cooling, and temperature monitor features are definitely very useful and I think everyone would agree with me that this is an excellent product that would go great with any computer.

[+] Good
Slick design looks nice and spices up your case.
Cools hard drives and case well.
Monitors the temperature of several devices at a time.
Programmable alarms warn of danger.
A built-in clock adds yet another useful feature.
Light-up panel allows you to see the display in the darkest of rooms.
[-] Bad
The price is a bit high for some people.
Too bad it didn't come with more probes...
Overall Rating: 9.2
[ Buy the AMK System Monitor | Search for the lowest Prices of this Product! ]