Review: Alpha PEP66T Socket Heatsink (Page 1/4)


Posted: April 14, 2001
Written by: Tuan "Solace" Nguyen

Introduction

Today we're taking a look at one of Alpha Novatech's top of the line heatsinks for the Socket platform. Alpha is most famous for embedding copper into the base of its heatsinks and its PAL series is most famous for having that feature. Another line that has received large attention recently is Alpha's PEP line. Originally produced for use on Slocket adapters, the PEP66 heatsink offered excellent cooling care of its size and design.

Today, care of demand, Alpha has improved the PEP66 heatsink. Design wise, nothing has really changed from the original PEP66 except that now with the new PEP66T model, Alpha has modified the shroud so that the heatsink fits on Socket A motherboards. Finally, Socket users can enjoy excellent cooling at a good price. Not that you couldn't have before, it's just that now you can get an extremely tweakable heatsink for about $30.

A tweakable heatsink? Sure! You can tweak anything inside a computer and heatsinks are no exception. The Alpha PEP66T is definitely one of the most tweakable heatsinks I've come across. Because of its unconventional airflow design, the PEP66T allows you to adjust airflow to suit your case design. We'll take a look at tweaking the PEP66T, but first let's take a look at the heatsink itself.

PEP66T

The first thing you'll notice about the PEP66T (and the original PEP) is that air is forced horizontally through the heatsink. The fan is attached to the large shroud and by default, pulls air from the heatsink. Alpha is known to have its fans pull air away from its heatsinks rather than push air onto them. Because of their design, the PC heatsinks that Alpha produces perform better when air is pulled away. The shroud that is on all of Alpha's heatsinks play a big role in this and without them, the pull method wouldn't work very well.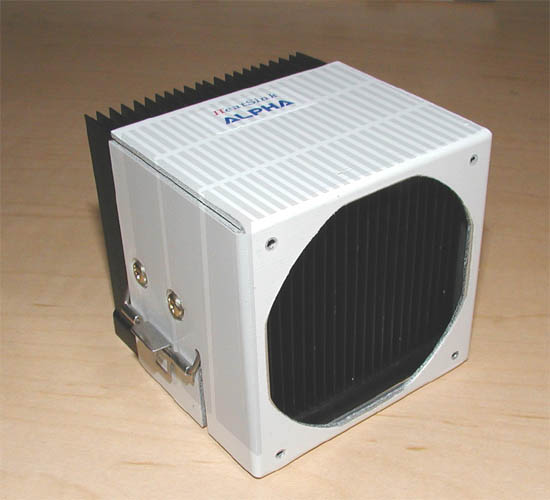 Forced air via a large shroud


Underneath the shroud, there are large fins that are arranged in 22 fins by 4 rows. Because they are thin and long in this order, it makes sense to push air through the side of the heatsink. With the correct motherboard, the PEP66T can be positioned to expel air out the back of the case where a fan is usually installed already pulling hot air out.

In the above picture, I shaded in the fins to let you see how their layout would have looked like had I remembered to take a picture of the heatsink without the shroud. Let's take a look below.