Abit BE6 i440BX Motherboard (Page 3/3)


Posted: October 16, 1999
Written by: David "Spunk" Grampa
Estimated retail price: $119.99

Bumpin' da BIOS

One of the most obvious differences between the BE6 and most non-Abit motherboards is the BIOS, or additions contained within the BIOS. One of which being Abit's famous SoftMenu II which allows users to manually set the clock frequency, core voltage, and multiplier of the CPU. While some will be hassled by another section that needs to be configured during installation, many more will slap in the fans and let the overclocking begin. Abit has achieved the reputation as most overclockable motherboard manufacturer, and with their latest board- nothing has changed. From CPU to AGP overclocking, the limits are only attained by your imagination. Eeeehh, well maybe not, but you get the picture.

I will not go on talking about SoftMenu II because many of you have read past Abit motherboard reviews, and know what all the fuss is about. So moving on, did I really like this in my system?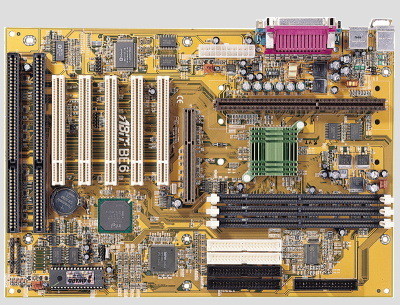 The luscious BE6 bearing all. Notice the 'smashing' colors of the parallel, serial and PS2 connectors? The new standard for motherboards, no more mixing the mouse and keyboard. Woohoo!


Overall Stability

Now that the features are covered and out of the way, how did it perform as a motherboard in whole? Not surprisingly, very well. Stability has become a must with motherboards, and the BE6 is on par with most. After slapping it down in my system, I ran it for about five days before I got the chance to write this review. Since then, I have had absolutely no problems caused by the motherboard. Although this doesn't mean it is an entirely stable and reliable motherboard, it is not anything below average. Once again, Abit has made a feature intense, well-rounded motherboard...


Conclusion

I'll try to make this as brief as possible. Abit is a good company, known for making great motherboards. While overall, such a position is a great thing, there is a downside. People have high expectations for Abit, every one of which was met by this product. Between the overclocking capabilities, to system monitoring, and back to the general ease of use- you will not go wrong with this board. A few industry words of wisdom... With the market being bombarded by great motherboards, consumers being shell-shocked by motherboards that 'stand-out' is few and far between. My recommendation to those building a Celeron, PII, or PIII based system is to grab this mobo while it's hot. Yet again, pay attention to my final opinion when I say: 'Abit has made yet another great motherboard'.



Overall Rating: 8.5





[ Search for the lowest Prices of this Product! ]