Interview with Peter du Preez of Abit

Many of us can remember when ABIT first introduced the jumperless concept on motherboards in 1998, the then named Sotfmenu(TM). Ever since they have been observed as a prime choice for enthusiasts who crave flexibility, stability and foremost overclockability from a motherboard. In recent years however ABIT has suffered financial problems and things have gone overall somewhat quiet. Now after a recovery operation has swept through its premises we took pen to paper and thought it wise to dig up the latest news our ears were so eager to hear.

Tweak3D: Please introduce yourself and describe what your job working for Abit involves. Abit's Peter du Preez: Greetings Tweak3D fan's, my name is Peter du Preez, Marketing and PR manager working for ABIT Computer Corporation. My job is all immersive and completely diverse. Some of the interesting things we do involve market research for new technology, ad campaigns from conception of logo's, slogans, etc to advise on style and themes. I deal with tier one and two media, developing relationships and friendships with media throughout the world, and of course I promote and keep up the good perception of ABIT in as friendly a manner as possible. Other duties include product proposals and market perception analysis of current strategies. I deal with partners such as Intel and Creative and present marketing strategies to apply for co-operative ad campaigns. I'm integral in expo's and shows whereby I plan events and promote our brands as well as get to travel worldwide to participate at these shows. Essentially I am busy all the time..:-)
Tweak3D: As a fairly important issue to commence with, there was and still remains considerable concern in regarding to ABIT's recent somewhat problematic financial situation. In recent times ABIT has been making progress to cut debt and otherwise amend the company's well being. Given this process is still incomplete at this time, please comment on how the consumer should feel about buying your products? In particular is there any reason for concern over ABIT's future? Abit's Peter du Preez: To answer your question I must point out a few things. Firstly; the brand "ABIT" no longer has financial concerns at all. We are now completely owned by USI who will provide our manufacturing and back up RMA in addition to what the motherboard division of ABIT already has. Secondly; all the engineers, marketing, sales and R&D will now be employed by ABIT - USI, and not by the original company group who still owe the outstanding money. So as a consumer, you should feel confident that ABIT motherboards are still made to the highest exacting standards, and are backed up by not only ABIT's RMA centre's around the world, but also USI's customer service and support. The future for ABIT never looked better.
Tweak3D: ABIT has long traded using the distinction in your motto "Your Reliable Partner" implying your products are of high quality. Given there are many consumers who don't realise you view yourselves as the choice for enthusiasts, how would you summarise ABIT's product offerings? Abit's Peter du Preez: ABIT product offerings in a nutshell are designed to meet the exacting standards of several core enthusiast markets. According to our research, we have identified within the enthusiast market several niches. The first and foremost being someone we call the "Techno-yuppie"; this is someone who loves to have the best of the best, no matter what the cost, as long as it has all the bells and whistles so he/she can buy more tech toys, in addition some of these people like the performance to be without equal, as well as overclockability. We cater to that demand with bundle and spec adjustments that clearly define our flagship product as different. This is done through our MAX range of boards. (See our AW8-MAX (i955 chipset))
The next core market is the "Gamer" and we call these boards the Fatal1ty range. In consultation with Fatal1ty the worlds number one professional gamer for five years running. We design and implement features that will only help people game better. Who cares about wireless when you just want a game machine? This board will give you some nice overclocking, enough to give you something extra, while keeping up stability and giving you superb performance and awesome cool looks, not to mention a useful bundle which gives you extra bang for your buck. This is essentially the red "Ferrari" of the motherboard world. Within this segment we will be catering to the high-end (Champion series), mainstream (Pro series) and value user (Performance series).
Our last segment is called the Guru line, and this incorporates all our mainstream users, who will know about our high end products and will wish for some of the expensive features, but have to settle for a price/performance solution. Naturally this series will be nicely overclockable and at a good price point. (See AN8-32X).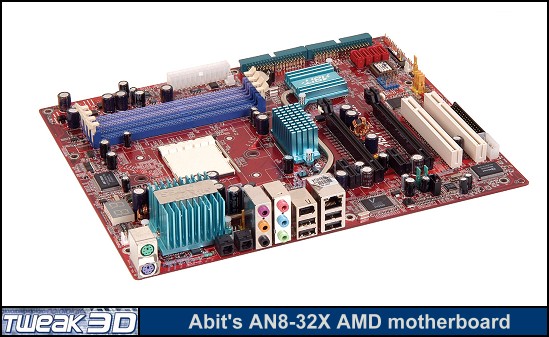 Tweak3D: Asustek has been your arch rival in the enthusiast motherboard market for years now producing a strong wave of very popular and feature rich performance and stability orientated boards. ABIT has been performing the same trait with lesser or greater success. A good question here is whether one may expect another equally successful product such as the IC7-MAX 875P Intel chipset motherboard? Abit's Peter du Preez: This question is difficult to answer, because I see all ABIT's offerings as better than our rivals. We constantly innovate and set the example for others to follow. In almost every technological advancement in motherboards; ABIT has been the first. We started with ABIT's venerable SoftMenuTM creating the jumperless standard, and transformed the industry. Technologies like OTESTM set new standards in not only superior cooling, but also low noise output. ABIT's "Guru" technology with BlackBox integrated e-service changed the kind of service people expect from a motherboard company. These are just some of the innovations and please look out for more in the coming months as we gain access to USI's R&D and technical specializations.
Tweak3D: With the big Asustek (Asus), Microstar (MSI), Gigabyte and Elitegroup (ECS), all striving to make their products appealing to the consumer in more ways than ever observed before, the IT industry is much more competitive than back in the days when the consumer boom only really took off (i.e. 1998/1999). Today it's no longer sufficient to supply a stable motherboard that simply overclocks well, the market and thus consumer demands more. Because ABIT market's itself as a company always seeking to setting new standards in innovation, just what can one expect from ABIT in the foreseeable future in terms of added value? Abit's Peter du Preez: In terms of added value, the customer can look forward to innovation second to none, bundles more applicable to need, and of course performance and stability without equal. Our niche marketing strategy will cater directly to those who cried out for our help.
Tweak3D: ABIT used to be an Nvidia GPU graphics card provider however recently you've made the decision to hop over onto the ATI bandwagon. Does this mean to imply you no longer have plans to offer Nvidia GPU based variants or is there possibility for a permutation of both such as that currently being practised by Gigabyte Technology? Abit's Peter du Preez: ABIT with its current move under USI have decided to focus on their core strength which is of course motherboards, so in the foreseeable future, we will not be making graphics cards. Reasons for this are they stifle our R&D?s innovation since both ATi & Nvidia reference designs are simply copied and branded amongst all the various companies, leaving very little differentiation between brands. Also the margins are very tight in the graphics card industry so we will wait for the correct moment before we re-enter.
Tweak3D: With CeBit just around the corner is/are there any new product(s) that ABIT is planning to unveil and if so what can we expect within these coming days? Abit's Peter du Preez: Yes CeBIT will be awesome! We will be launching a sneak preview of our KN9-SLI motherboard which has the best layout design on a motherboard I have ever seen. We have taken to heart some of the customer demands so check this one out. In addition we will showcase our new Fatal1ty gaming mobo (Performance series) based on the AMD M2 platform as well as a whole heap of new and interesting motherboards. The daily shows will include a typical Fatal1ty shootout, whereby fans can compete for prizes against the world's number one FPS gamer. In addition we will have an overclocking demo with Robert "Crotale" Kihlberg from Sweden, putting his awesome cascade compressor rig on our new AW8D-MAX motherboard to see what stable overclocks he can pull from it.
Our very own Team Dignitas will be giving gamer tips and coaching for the visitors, and lastly we will be hosting "ModmyMachine" who will be filming and modding for everyone's benefit. All shows will run 3 times a day. Whatever you do, don't miss the ABIT CeBIT stand. Hope to see many of you there.
Tweak3D: Due to the financial issues encountered by ABIT, this has affected the vast expansion of your products portfolio and instead permitted easier such change by your competitors. What is the atmosphere within the company today and just how aggressive and full of enthusiasm is everyone to allow ABIT to regain the position it once had? Many of us still have fond memories when ABIT pioneered SotfmenuTM all these years ago as nothing else quite so flexible and useful was available from others. Abit's Peter du Preez: ABIT staff are always strongly committed with pride to the brand. With the recent good news of the USI merger, we feel vindicated that our patience paid off. Many of us here have been through the worst times, and admittedly it was a struggle to keep an hint of disappointment whenever the press seemed to focused on only the "financial issues". Now that that is behind us, we all look forward to a bright future for ABIT, starting with CeBIT.
Tweak3D: We would like to thank Peter du Pereez for taking time out to participate in the interview. Abit's Peter du Preez: Many thanks for giving me this opportunity to spread the word about ABIT. Your questions were challenging and insightful and I look forward to working closely with Tweak3D in the future to maintain and promote ABIT's image.
Want to give Abit a visit?