Posted: July 6th, 2005
Written by: Adam Honek
---
---


In Operation



For our testing we installed the cooler on a Socket 775 Intel platform together with a 3.46GHz Pentium 4 Extreme Edition (Gallatin core) CPU. This represents a fairly hot running CPU with its 169 million transistors and very large 237mm2 die size. We later overclocked the same CPU as far as it would go with the new cooler compared to Intel's stock retail cooler. In each case we measured the Idle, General Use, and Heavy Load temperatures. The Vanessa L-Type cooler makes a stand for itself absorbing a good deal of space and one should ensure your model of motherboard has no obstructions around the CPU socket if it is to fit. From our experience a Northbridge heatsink measuring more than 33mm high would cause problems as could a too short distance between the CPU socket and what usually is the PSU unit above. Luckily on our Asus P5AD2-E Premium test sample all was well and with little hesitation we progressed onto testing this massive but also attractive beast.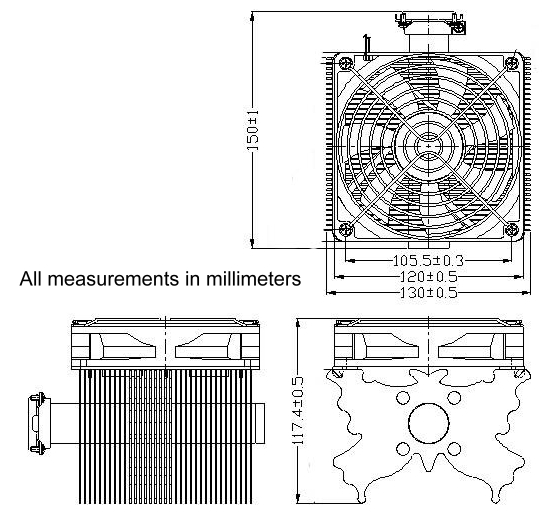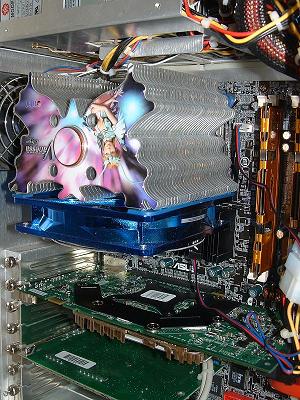 Click images to enlarge.



Test Setup



Asus P5AD2-E revision 1.05 motherboard BIOS 1005
Intel Pentium 4 Extreme Edition 3.46GHz ES socket 775
Titan Vanessa L Type CPU cooler
Retail box Intel Socket 775 cooler (C25697-001)

Definition of Idle:

PC running Windows XP Professional SP2 with only background programs and/or services as would be deemed contained with an average fully configured setup.

Definition of General Use:

PC running Windows XP Professional SP2 with various levels of moderate use such as email, word processing, browsing the internet, listening to MP3 files and also but not limited to website creation. Please note that general use may also refer to more than one such activity occurring at any point in time, i.e. MP3 file playback and internet browsing in parallel.

Definition of Heavy Load:

PC running Windows XP Professional SP2 put to work by such activities as game playing, video encoding, benchmarking or number crunching were CPU load is deemed high to very high.

Used software:

Windows XP Professional SP2
Microsoft Office 2003 SP2
Microsoft Windows Media Player 10
FutureMark 3DMark05 version 120
FutureMark PCMark05 version 101
Kanada Lab. University of Tokyo SuperPI version 1.1
Rockstar Games Grand Theft Auto San Andreas
Id Software DOOM III

Further notes:

Please note that room temperatures fluctuated during testing from approx. 18-28C but it was confirmed that these did not amend the cooling performance of the Vanessa L-Type cooler by more than 1-2C.