Posted: July 6th, 2005
Written by: Adam Honek
---
---


Introduction



Hopefully many of us can recall if not remember with sheer enthusiasm the days when CPU cooling was nothing more than the chore of a small heatsink delivering passive cooling. It would be rude not to mention how well Intel's then 486 and Pentium processors as well as AMD's K5 then K6 CPU's ran with little more than a small lump of aluminum stuck to their backs. It's been some years now since we've waved goodbye to such simple forms of cooling our CPU's and have been forced to approach this problem differently. These days a Prescott based Pentium 4 (or D) or indeed an AMD Venice/San Diego based CPU is enough to not only power our ever increasing need for speed but keep us warm within the cold months of winter. For this very last reason we've been witnessing the ever larger and thus more productive cooling offerings to keep things in order. While standard CPU coolers bundled with OEM computers or retail boxed processors do their job they often fail to impress a true enthusiast who's not only concerned with keeping heat down but also about having the headroom to explore overclocking. Today we've taken such stance and have decided to review a product attempting to fulfill these requirements, the Vanessa L-Type cooler from Titan Computer Co. Ltd which retails at about $65.



First Impressions



Well where does one start other than to immediately comment on size. The retail box within which the cooler arrives is large to say the least and one would have no problem missing it so to speak. As we open the packaging we find everything neatly located just as how one would desire. The multi-language instruction manual makes easy work installing the cooler on either an AMD K7 (socket 462), K8 (socket 754, 939, or 940), or Intel Pentium 4 (socket 478 or 775) motherboard. On the note of installation we should comment on how long it might take. Unfortunately for Socket 775 systems one will need to remove the motherboard to screw in a bracket, for other platforms however this is unnecessary thus many of you can now breathe a sigh of relief. The cooler is screwed onto its own supporting bracket via four screws (all provided) and once this step is performed nothing short of a hurricane will cause it to become unreleased. This is certainly very pleasing as it emphasizes the sturdy construction and more importantly means solid contact can be maintained between it and the CPU. The blue 12cm fan appears to look metal when in fact it's plastic and we found its maximum 34dbA very pleasing never giving your ears more than the hum. The fan speed itself is controlled by the also supplied control that can either be installed in a spare 3.5 inch slot at the front of your case or at the rear using a free backplate. The latter itself has a knob allowing one to amend the fan's speed anywhere from 900RPM to 1800RPM. At these speeds the fan has an airflow of 33.53CFM and 71.09CFM respectively. So far so good one could say and the cooler is definitely massive but elegant with its butterfly shape and 3D attractive image. Its measurements are 150mm x 130mm x 117mm and to give you an idea just how big it is we've put what is a beefy Victorinox Army Knife next to it which is about the width of a standard Intel Socket 775 cooler.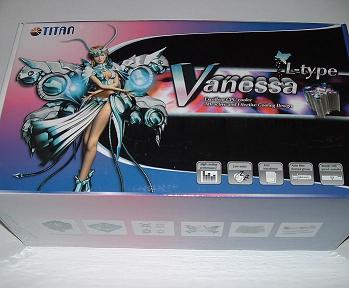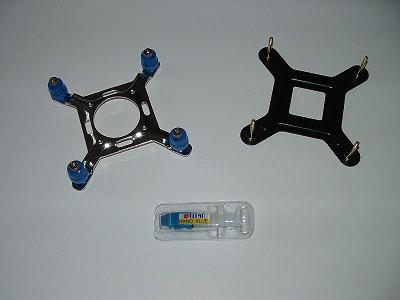 Click images to enlarge.