Posted: November 22nd, 2004
Written by: Adam Honek
---
---


First Impressions



The storage device we evaluate is dull in color but perhaps elegant as a result; according to Swissbit they call it Indigo Blue. Weighing no more than a standard pen and measuring only 72mm x 30mm x 11mm (length, width, height) it is small enough to go largely unfelt in one's pocket. The design features a rotary swivel that can be turned to hide/unhide the device's USB connector. A belt clip is featured on its rear making wearing it on one's belt practical and easy. The sample we received is a 2GB version resulting in providing a vast space for storing for about three CD's worth of data. The company Swissbit are themselves perhaps a yet unheard of name to some, this perhaps due to the fact they are based in Switzerland - a country not often connected to the IT industry. With 12 years experience in manufacturing memory products and some 3.5 million of these produced each year they are the largest independent European memory module maker since 1999.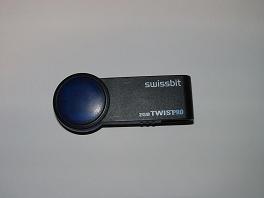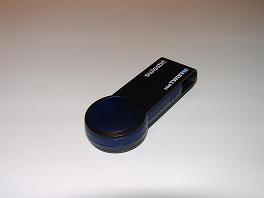 Click images to enlarge.



In Operation



Small USB storage devices such as these are perhaps one of not so many PC add-ons that lack any need for setup or configuration prior to use. All that is needed in order to use the Swissbit Twist Pro 2GB is to insert it into a vacant USB slot either at the rear or front of your case, or a USB hub should you be using one. The only concern that should come across anyone's mind at the time is to ensure the slot is USB 2.0; otherwise the transfer speed will be limited to the max 12Mbit/sec that the initial USB standard offers. For most Operating Systems no driver is necessary however for those such as Windows 98SE or MacOS 8.6 either Swissbit or Apple provide a compatible driver. A small visible LED informs the user of power and also if the device is being read from or written to. Should someone dislike the flash memory protruding from their case bending it to one side is easily made possible. The large area for storing data can be formatted just as any disk, in our sample we chose to make it NTFS due to the extra characteristics it allows over FAT32. For anyone wanting to make use of it within Windows XP (as should be in the majority of purchases) this seems like the best option to pursue.
Click images to enlarge.