Posted: May 26th, 2004
Written by: Adam Honek
---
---


Nokia 6600 game capabilities



Cell phones have for some years now harnessed the ability to play games often simple both in features and graphical flamboyance. Running a Symbian OS and a relatively fast CPU has led to a new wave of gaming capabilities that aim to please. A lot of the reason why mobile games have rocketed in numbers over the past two years is the result of colour screens. Nokia's 6600 208x176 screen resolution provides a somewhat large area to cast graphics and in some part explains why gaming is a joy. It is both pleasant and nostalgic to replay once again for example the original DOOM as common on PC's not so long ago. Symbian games are by contrast more graphical and of better quality than Java and it is only these (for now at least) that show off at best the phones capabilities. Most impressive are 3D games where real three-dimensional graphics move and by this we mean smoothly that can be addict. An only element where some criticism can be rendered is that lack of texture filtering, this means that walking closely to a wall or other 3D character in a game meant seeing blocky pixels. Smartphones are soon to receive MMX capable processors that offer yet increased performance and problems such as these will become a non-issue. Overall it is quite impressive how much a small phone can offer in gaming, it was only a few years ago that PC's delivered this level of graphical power.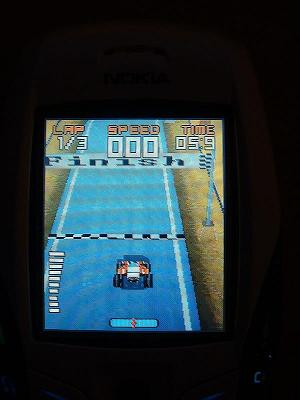 Click images to enlarge.