Posted: May 26th, 2004
Written by: Adam Honek
---
---


Nokia 6600 functionality and applications



Nokia 6600 functions using Symbian's 7.0s Operating System together with version 2.00 of its Series60 GUI (Graphical User Interface). For users of either the 7650/3650 or 3660 it will automatically spring to mind what this is, for novice users we're addressing the notion of icons, graphics and feature layout all used to link control between it and the user. Symbian is a popular OS featured in smartphones and we're likely to see its presents in many other future Nokia models of this calibre, until now Nokia featured version 6.0 & 6.1 or earlier in their prior models. Along with the OS of course come many software additions that all serve to bring functionality, in terms of the benefits a Series60 version 2.00 GUI brings we would have to welcome the inclusion of themes support. This allows texturing backgrounds, menus, and icons giving your own phone that personal touch, possibilities are almost endless and themes can be also designed yourself if you feel imaginative (PC software to do so can be downloaded). Any programs that already are factory pre-installed also have the chosen theme applied; the effect is a pretty and professional look spanning many tastes. By default four themes come pre-installed however a user it at free will to install more. As a quick rundown below we state the standard installed features as observed when navigating through the phone: Messaging
Used for sending/receiving text, multimedia, and email messages
Contacts
Used for managing your own contacts data
Calender
Used for calendar display and setting meeting, anniversary, or birthday reminders
Gallery
Used for easily viewing saved images, sound and video content
Camera
Used for making still photos of anything you desire
Video recorder
Used for recording short MMS compatible video clips
Realone player
Used for playing real media files
Services
Used for configuring and accessing web pages from your phone
Manager
Used for uninstalling and otherwise managing installed applications
Profiles
Used for selecting your phones profile
Go to
Used for configuring and accessing quick links to your favourite features
Themes
Used for selecting pre-defined or custom themes personalizing your phone
To-do
Used for setting reminders about future tasks requiring your presence
Help
Used reading and learning about various phone features
Log
Used to track phone call, messaging, and GPRS usage
Bluetooth
Used for configuring and using Bluetooth capability
Infrared
Used for configuring and using Infrared capability
Connection manager
Used for managing active connections
Modem
Used for using the phone as a modem for other devices
Sync
Used for synchronizing phone data
Notes
Used for writing brief notes
Calculator
Used for various math operations
Converter
Used for converting various values into each other
Recorder
Used for recording an audio file
Clock
Used for configuring and displaying clock information
Memory
Used for configuring phone and MMC memory
Wallet
Used for storing personal private data such as bank information
About
Used for displaying information about the Nokia 6600
Settings
Used for setting various phone configuration data
Voice mail
Used for allowing quick access to voice mail
Speed dial
Used for configuring key shortcuts to frequently dialled numbers
File manager
Used for simple navigation between phone and MMC data files
Voice commands
Used for setting up voice commands to activating phone features
Snake Ex
Famously known version of Nokia snake game
Mix Pix
Puzzle game based on aligning images Most of the above named features are self-explanatory and as such we won't explain in depth their use. Amongst the most appealing options are playing real media files that can be anything from short clips to full movies if available. While studying the video capabilities of the handset we became disappointment to learn about a 9 second limit on recording clips. We understand that this was trimmed to especially cater for the needs of multimedia messaging file sizes but what if someone simply wants to record a video? Luckily third party applications available for purchase overcome this obstruction, for Nokia this is definitely something to remedy in future models or firmware. Video quality itself was quite poor and other non Nokia software solutions do a much better job and support recording other than in 3GPP format. The inclusion of a gallery is a nice addition grouping access to all saved media from one place whereas the file manager albeit basic gives some user freedom in navigating through the data on their phone. Both these aspects are and will however remain handled more efficiently by third party applications, despite this it's good to see Nokia advancing on the user friendliness of their phones. Another new addition is an application given the name of wallet. Using it a user may store confidential information such as PIN numbers, credit card details and similar. Many can question how secure this method of keeping such information close to you is, to serve some security a wallet code is asked from the user which is later used for each access. Amongst 3rd applications we tested were those offered by Psiloc. This company based in Koszalin, Poland specializes in Symbian mobile solutions and has a wide portfolio of varying software titles. Amongst others we tested their Total irRemote application which allows a smartphone to act as a remote control for your TV, video, DVD player etc. Other tested titles included Screen Saver and Space Doubler. All performed flawlessly and showed the flexibility of the Symbian platform.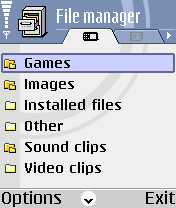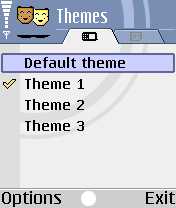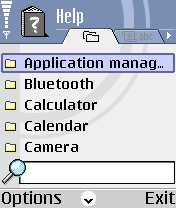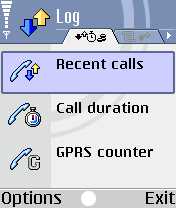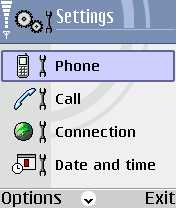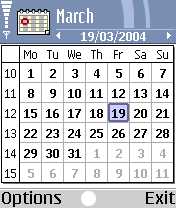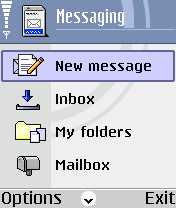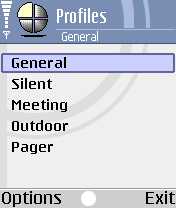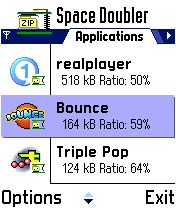 A collection of screenshots showing many features of the Nokia 6600.