Today we strayed our way over to Crucial in attempt to find out the latest and greatest from the company that has since 1996 been selling computer memory to many satisfied customers. Now as a very known brand in the IT industry, it seems more than perfect timing to find out what we may expect in the foreseeable future.

Tweak3D: Please introduce yourself, what your job involves and what made you join Crucial.
Crucial's Paul Motion: My name is Paul Motion and I'm a Technical Hardware Specialist at Crucial Technology Europe. My role is hard to define since it's very varied and no day is ever the same, but in a nutshell, I deal with any technical matters that arise. I support different departments, working on different topics, but my main role is to solve any technical issues a customer may have.
As you know, Crucial Technology offers free technical support, which I help to provide via e-mail or phone. A customer can call in, and because it's free, I can take time to go over any problems they're having, from installing their new memory to configuring BIOS settings.
When I'm not talking with customers, I create and deliver technical training for our new staff. I maintain an internal technical support site which I update regularly. I also test games and software as well as performing product benchmarks and tests.
I've also recently been attending LAN parties and trade events in order to answer any questions people may have about Crucial.
The reason I joined Crucial is an easy one - the job description mentioned that they needed someone who 'eats, sleeps and breathes computers'. After reading that, I knew this was the perfect job for me... and the rest is history!
Tweak3D: Over recent years Crucial has been expanding its product offerings to extend several key areas in addition to being just a memory provider. These include USB pen drives, various flash cards and graphics cards. Is there anything new in the pipeline that you would like to mention or perhaps hint on?
Crucial's Paul Motion: Crucial is well-known for its memory modules, but over time we have also grown our flash product line. We now carry an extensive line of flash cards, including xD, SD, Compact Flash and Multimedia, as well as UFD drives. The line has grown and the densities have been increasing. We're always evaluating new products. I don't have any definite news at the moment but keep looking for updates and expansions to our flash line.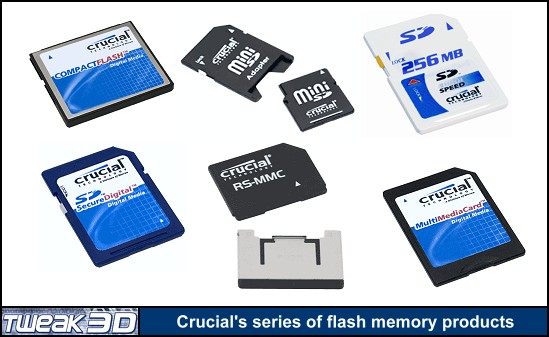 Tweak3D: Up to the ATI Radeon X850 series GPU's, Crucial has offered its own versions of graphics cards based on these and previous ATI GPU's. Unfortunately as many have no doubt noticed, Crucial has stopped expanding this product line to include the newer ATI x1800 and x1900 GPU's. Please comment answering why and whether Crucial is no longer interested in offering the latest and greatest from ATI?
Crucial's Paul Motion: We try to offer the mainstream graphics cards our customers want and need. The range we currently offer is fairly broad, covering cards for light office use to heavy gaming in both AGP and PCI Express flavours. By no means have we stopped expanding; we simply add to our line when we think our market is ready.
Tweak3D: Is there any chance Crucial will start producing Nvidia GPU based graphics cards?
Crucial's Paul Motion: Because the memory industry is one that is forever changing, new products can be added at any point. At this moment in time, however, we are not producing Nvidia GPU based graphics cards, but we are always considering our options.
Tweak3D: Your Ballistix memory series seems to be doing well since its launch several years ago however people still recall the names OCZ Technology and Corsair more often, how is Crucial tackling this?
Crucial's Paul Motion: The Ballistix line is our high-performance range of memory which is aimed at gamers and performance enthusiasts. As you know, this area of the computing world demands nothing but the best and that is exactly what Ballistix strives to deliver. To stay strong in this arena, we have an impressive line up of high performance DDR and DDR2 Ballistix, in various speeds and densities to suit all needs. As well as the stunning performance, they also have a unique style, with gold heat spreaders and black PCBs. If that's still not enough style for your rig, we also offer Ballistix Tracer, which has chasing LEDs mounted to the PCB that monitor the performance of the memory. The more stress you place on the memory the faster the LEDs move.
Besides offering an impressive product, Crucial Technology takes great care to provide excellent service and support. We offer all our customers a great package including some of the following benefits -
24-hour secure online ordering
Contact options including phone, fax, and e-mail
Award-winning customer service
Free technical support
Free shipping within the UK on UK orders over £25
Free shipping within the US on US orders over $40
30-day money-back compatibility guarantee
Limited product warranty (See conditions.)
Competitive pricing
So in a nutshell, Crucial customers get an excellent product backed by award-winning service and support.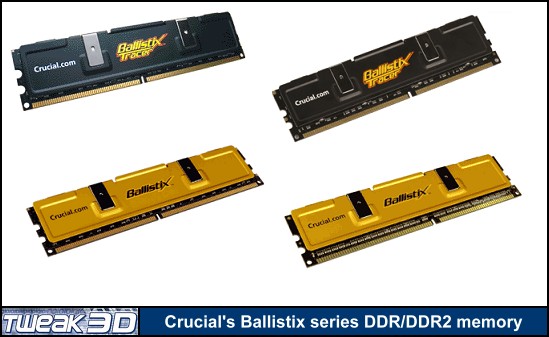 Tweak3D: On the same topic, does Crucial hope to bring the Ballistix series to notebook users as well?
Crucial's Paul Motion: At the moment, we're not planning to offer Ballistix notebook RAM. The performance notebook market is interesting, but not yet matured. If the demand is there, however, we'll certainly consider it.
Tweak3D: Pocket sized flash storage has taken the world by storm and USB2 has been there to make it a reality. Recently there's been a trend to implement mechanisms just as dual channel to improve on its read/write performance. Please comment whether Crucial has any plans on releasing a specialised higher performance series of USB2 flash drives?
Crucial's Paul Motion: As I mentioned in response to question 2, we are focusing on expanding and updating the Gizmo! drive line. Stay tuned!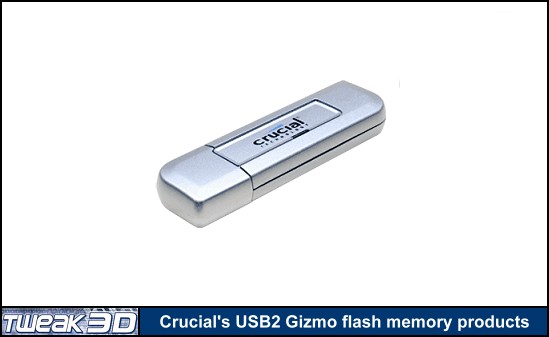 Tweak3D: As a way of perhaps concluding this interview, what do you feel Crucial does best as a technology provider and why?
Crucial's Paul Motion: In an industry that is full of technical jargon, it is difficult for some customers to understand what it all means and find the parts they need to upgrade their system.
What Crucial does best is make the entire upgrade process as simple as possible.
If a customer is unsure of what RAM they need, it's a simple 3 step process to find out. By using our Memory Advisor Tool, all they have to do is enter their make and model of system, and the Memory Advisor will give them options of which memory will be compatible. All that's left to do is choose which density they would prefer.
And even if a customer is unsure of their make and model of system, our System Scanner will help them get the right RAM. It will scan their system and then produce a report to tell them how many slots are free and the quantity and type of RAM they need.
To top it all, we also offer a limited lifetime warranty on all our modules.*
Our website also has a massive knowledge base to assist with any questions, installation help or troubleshooting. And if there's still uncertainty, customers can contact us by phone or email and speak to a real person! In my opinion, Crucial makes buying RAM so simple.
*Terms and conditions apply.
Tweak3D: We would like to thank Paul Motion for taking time out to participate in the interview.
Want to give Crucial a visit?