You can beat it!
Introduction
This guide will walk you through the process of repairing a malfunctioning Playstation 2 or one that gives you Disc Read Errors (called "DRE" from here on). I have tested this process on over fifty Playstation 2s now and it completely fixed the errors on about forty of them.

The most common with this issue seemed to be model # SCPH-30001, and this guide focuses on it. Some of these steps can be applied to other models and won't hurt them.
Note: Sony finally acknowledged this problem and offered a class action lawsuit to fix some of the units. This settlement is now expired in the United States. It may still be available in other countries. Read this page if you are outside the United States as it could result in a new unit.
This process will void the 1 year warranty of your unit if it hasn't expired. Perform at your own risk!
To skip right to the repair process, go here.
How To use This Guide
Before you begin, note that this article was written for older Playstation 2 models, not the second generation model (that looks the same externally as the first model) or the slim PS2 model. When you begin the repair process, you may run into problems that are not covered in this guide. In such an event, please consult our support message board before e-mailing me. If I knew the answers to your questions they would probably already be in this guide. If you have additional tips for repairing Playstation 2s or other game consoles, please e-mail us so we can ensure that other readers benefit from this information.
If you have doubts about the success of the techniques outlined in this article, I invite you to read the testimonials of some readers I've published - we have received over 4,000 positive e-mails on this article to date! These steps can certainly help many other people. We do not ask for money in exchange for these steps, but ask kindly for you to share the information with as many people as you can find.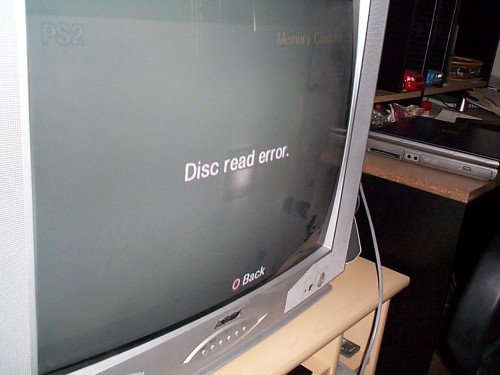 Please refrain from throwing your shoe at the monitor. It will all be okay soon.
What This Guide Fixes
Typically the steps outlined here fix the following:
"Disc Read Error" problems
Grand Theft Auto: Vice City and San Andreas "DVD Read Errors" and "Loading" errors
Playstation 2 will stop getting stuck at the "Browser" screen.
Skipping should stop in some games and load times may even improve.
More DVDs and Playstation 1 games should work.
Loud tray opening/closing could be fixed.
The PS2 may run slighly cooler.
Before you gather tools and begin, you might want to know what this process entails. You'll be opening up your Playstation 2 console and cleaning various components inside. Also you'll adjust the angle of the disc to the laser. Finally you'll check loose connections and clean the mechanism/track for opening and closing the tray. The whole process is very simple and assuming you have some easily acquired tools, the first time you try this it will only take a half hour or so.