Pentium 4 Overclocking (Page 3/8)


Posted: June 22th, 2001
Written by: Tuan "Solace" Nguyen

Operation Time

NOTE: At the time of picture taking, I was only with an Intel DB850 motherboard. Iím currently out of the country, writing this article using an Asus P4T motherboard and so you wonít see the pretty pictures of it here. All the tweaking is done with the P4T.

First we
crack open the case to the box. Our system came with a really good heatsink but its fan isnít powerful at all. A slow fan with low air output isnít all that was hampering our system from supreme optimization. A quick glance at the heatsink after removing it also gave us telltale signs that we needed to tweak the cooling solution as well.



Although the base is copper, the heatsink compound looked like it wasnít doing a very good job at all. We needed a better solution. The first thermal compound that came to mind was Arctic Silver 2.



Above you see the original Pentium 4 that shipped with the box after the heatsink was removed. Obviously it could have used better heatsink compound than what was already applied. I proceeded to remove the existing chip and replace it with the new processor. Below is a picture of the old processor (top) and the new shiny one (below).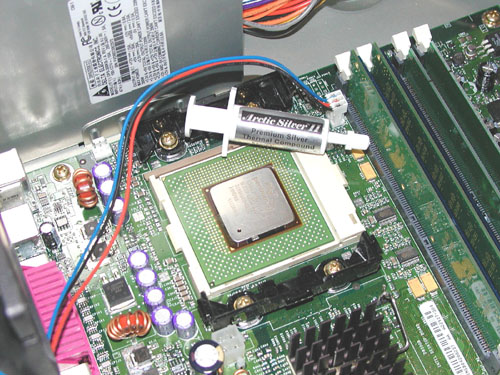 Once the processor is taken out of the box, apply the thermal compound to it before doing anything. Avoid touching the heat plate on the processor because the oil from your fingers insulates heat and donít allow the thermal compound to efficiently come in contact with the plate.