Posted: May 16, 2000
Written by: Dan "Tweak Monkey" Kennedy

Introduction

Sure it's a couple days late, but hey -- I was busy. :)

Since we started Tweak3D way back in April 1998, we missed two E3s (not counting 2000). We didn't want to miss another E3, so we made it for 2000. Actually, it's only a two hour drive from here (excluding that lovely LA traffic).

Decked out in normal clothes with normal badges, we were very hard to pick out of the huge crowd that made it to this year's show. We had a great time though, and so this article will be more about the fun stuff we did, rather than all the industry hype that you can read on any site.


If you saw five guys all hanging out together in the Gathering of Developers area during day 3, and all were wearing these Elsa bags, you spotted Tweak3D.



The Trip

As I said before, it was only a two hour drive to LA from Bakersfield. Five of us went... Greg "Dyre" Heasley, my brother (James), Josh Hobson, Daniel Hardy, and of course, me. I drove the "Warrior Wagon" -- err, a 1999 Dodge Caravan. Hey don't be fooled, that 2.5L I4 really moves. ;)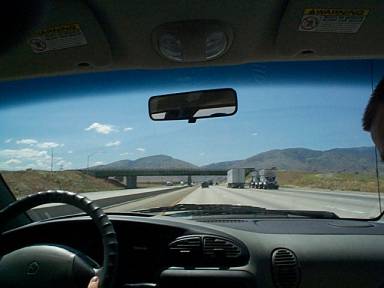 Here's the inside view from the backseat. Note -- I was driving.



After driving over the Grapevine (near Bakersfield), you're practically in LA. Driving over the Grapevine is very boring and sometimes people fall asleep. *yawn*


I wonder if these guys were also going to E3...



After we missed our ramp and ended up in Chinatown for about 15 minutes and getting quite lost in downtown LA, we finally found some parking and arrived at the convention center. Woohoo!